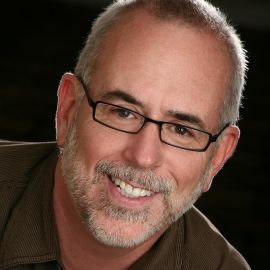 Russ Riddle
Speaker, Author, Lawyer
What do Barney®, Zig Ziglar, Thomas the Tank Engine® and you have in common? All have been served (or are about to be) by Russ Riddle!
Russ serves up quick wit, humorous storytelling and poignant tips, keeping you involved from start to finish. Having practiced marriage for 30 years, law for 22, fatherhood for 21, and braved adventures as a juvenile probation officer, realtor and newspaper columnist, Russ Riddle is convinced that we must never stop learning, laughing and leading.
His love of levity stems in part from an intellectual property law practice that has served such clients as Barney & Friends®, Wishbone®, Bob the Builder®, Thomas & Friends®, the voice of Jimmy Neutron® and impersonators of John Wayne and Michael Jackson.
As a degreed journalist and seasoned corporate trainer / public speaker, Russ has superb communication skills. He has served as:
Presentation skills trainer for Zig Ziglar's company (1-day and 2-day courses for their clients such as Halliburton, AAFES, Ventana and Army National Guard)

Keynoter for Ziglar clients (e.g., Ozarka College – opening keynote and breakout sessions on "Magnetic Communication," and National Emergency Number Association, TX Chapter – Fall Conference – "9-1-1- Champions")

His other presentation skills and communication groups have included Susan G. Komen for the Cure, FKP Architects and Dallas Association of Directors of Volunteers (DADV)

The current President Elect – National Speakers Association, North Texas.
Russ's philosophy that every productive endeavor in business and life boils down to positive relationships, and that such requires healthy communication, underscores his mission of helping people achieve top performance levels.
He is the author of "LAWYER UP – The Smart Way."
Speech Topics
---
CHANGES TO THE WORKPLACE PLAYGROUND
There are two certainties regarding change: Change is inevitable and change is constant. Therefore company team members must learn to productively adapt. Deep down, we adults are but kids with wrinkles and responsibilities. So for the purpose of successfully navigating change, we must be more childlike. Kids are resilient. Kids bounce back. Kids adapt. So must we! This course takes a fun approach to sensitizing participants to the change factors at play, as well as helping them understand, embrace and implement the fundamental processes, which make or break the change effort. Finally, we will laser focus the type of communication and compassion that ensures successful group change.
Learn:
Two ways that adults initially react to "change"

The value of discomfort

3 keys to successfully leading and/or navigating change

The process that affected employees experience (4 phases)

The process of leading the change (8 steps)

Substantive communication in the midst of change

Meeting soft needs of those affected
ETHICAL BEHAVIOR – MORE THAN JUST A RULEBOOK
Most professionals (attorneys, accountants, financial planners, insurance agents, etc.) are required to obtain annual ethics hours. Ethics go well beyond "rules." What's more, ethics discussions can actually be fun!
Hour 1 = How to stand out in the industry (industry professionals are so plentiful they are essentially commodities, so they must find a way to stand out in a positive way). In this hour we discuss how it's about likeability, character, being a lifelong learner and communicating effectively (and how ethics run through all of that). We finish the hour with a discussion of persuasion vs. manipulation (the latter being unethical) and the formula/art of persuasion to help industry professionals in their business.
Hour 2 = Customer Service — How to ratchet customer service up to top-shelf service, and how if you're doing those things, you won't find yourself in nearly as many ethical dilemmas. In this hour, we cover various tips and techniques, including how to incorporate social media as part of the overall service plan. Participants actually write a short service plan.
Hour 3 = Ethics straight on, but in a fun way. First, we discuss the "essence of ethics" (definitions, how ethics differ from law and other "codes," the relativity of ethics, rationale, litmus tests and the luxury of pondering it all in advance of being in the thick of a dilemma) – all with humor in the presentation. We then discuss 6 industry specific areas that exhibit unethical behavior. We finish the hour with group activity — each group is presented with fun hypotheticals, which they discuss and present their recommendations.
PERSUASIVE PRESENTATIONS
In today's fast-paced, data-deluged world, we have only seconds to capture an audience's attention. What's more, with audience members representing diverse cultures, learning modalities and personality types, presenters must make like Vaudeville performers at times. The good news is that, as with acting, there are time-honored techniques, which anyone can utilize to improve his or her public speaking. So stop playing the left-brain blame game and come solve the riddle of PERSUASIVE PRESENTATIONS!
This highly interactive session – tips, practice, taping and coaching – will catapult your presentations to the next level. But the key catalyst will be your instinctive internalization of the "self-catch, self-coach, self-correct" perpetual learning method.
Prepare to meet your inner ham! Book your team for PERSUASIVE PRESENTATIONS!
Related Speakers View all
---
Colette Carlson

Human Behavior Expert; Hall of Fame Motivational Spe...

Johnny Rodgers

Nicknamed "The Jet" for his rapid acceleration and s...

Debbie Lundberg

Author, Keynote Speaker, Facilitator, Corporate Trai...

Van Richmond
Robert Carrow

Communication, Public Speaking & Persuasive Presenta...

Mark Jeffries

Communication Consultant, Presentation Coach, Emcee ...

Jeff Tobe

Customer Experience Expert

Paul Lisnek

Award-Winning Television Host & Analyst

Eric Trogdon

Ex-Hostage Negotiator, Park Ranger and Zoo Keeper br...

Judy Carter

Master Teacher, Author, and Humorous Speaker

Joel Zeff

National Speaker and Emcee, Workplace Expert, Author...

Erik Wahl

Internationally Recognized Graffiti Artist, Entrepre...

John Sweeney

Inspiring Innovation at the Speed of Laughter

Arnold Sanow

Nationally Renowned Business, Communications & Peopl...

Billy Riggs

Motivational Illusionist, "Grand Illusions"

Jones Loflin

Internationally-Recognized Author & Speaker on Chang...

Michael kerr

Michael Kerr is an award-winning international speak...

Yvan J. Garcia

I am an extremely motivated individual who likes to ...

Mimi Donaldson

Speech Coach & Author of "Negotiating for Dummies" a...

Bruce Christopher

Psychologist & Humorist
More like Russ