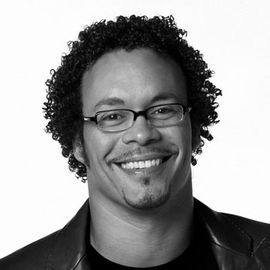 Ryan Bomberger
Emmy Award-Winning Creative Professional, Co-founder and Chief Creative Officer of The Radiance Foundation, Columnist, Factivist & Author of "Not Equal: Civil Rights Gone Wrong"
Ryan Bomberger is an Emmy Award-winning creative professional, international public speaker, columnist, factivist, and author of the powerful book, Not Equal: Civil Rights Gone Wrong. He is also the co-founder of RadianceFoundation.org, a life-affirming organization based on the belief that every human life has purpose. Ryan has a rather unique perspective of the innate nature of purpose. He is one of ten children who were adopted and loved in a racially diverse family of fifteen. Today, as an adoptee and adoptive father, he enjoys boldly illuminating the intrinsic worth we all possess.
He and his wife, Bethany, founded The Radiance Foundation to extensively research and creatively present challenging social issues through ad campaigns, multimedia talks, fearless journalism, and compassionate community outreaches. From keynotes at renown locations like Harvard, Princeton, Columbia Law School, University of Notre Dame, Ireland's Trinity College, March for Life DC, March for Life UK, Capitol Hill briefings, and hundreds more events here and abroad, Ryan is passionate about helping to build a culture that values Life in all of its stages.
Videos
---
Related Speakers View all
---
Pam Tebow

Mother of Tim Tebow, Faith-Based & Pro-Life Speaker

Dawn M. Baker, LMSW

Director of Michigan Infant Adoption & Pregnancy Cou...

Ryan T. Anderson

Founder and Editor of Public Discourse and Senior Re...

Emmitt Smith

Leading Rusher in NFL History, Three-Time Super Bowl...

Alan Keyes

Former US Ambassador to the UN Social & Economic Cou...

Brittany Paladino

Founder of 4 The Love of Alex & Adoption Advocate

Stephanie Berent

Adoption Advocate

Lyndsy Flanagan

Life-Affirming Specialist on the Option Line Team

Jennifer O'Neill

Internationally Acclaimed Actress, Christian & Pro-L...

Tim Tebow

ESPN College Football Analyst; Heisman Trophy Winner...

Kristan Hawkins

Pro-Life Activist, Author & Human Rights Advocate

Victoria Rowell

Classically Trained Dancer, Actress on "The Cosby Sh...

Antwone Fisher

Best-Selling Author & Screenwriter

Josiah Presley

Abortion Survivor

Jason Jones

Film Producer, Author, Activist & Human Rights Worker

Dean Nelson

Chairman of the Board for the Douglass Leadership In...

Liz Wheeler

Host of "Tipping Point with Liz Wheeler", Author & C...

Sue Ellen Browder

Award-Winning Investigative Reporter & Writer

Charlotte Pence

Best-Selling Author & Daughter of Vice President Mik...

Stephanie Gray

Pro-Life Advocate, Former Executive Director & Co-F...
More like Ryan