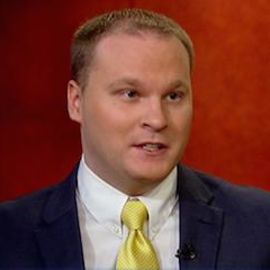 Ryan Mauro is the national security analyst for ClarionProject.org, which produced the hit films, "Obsession," "The Third Jihad" and "Iranium." Mauro is a frequent analyst on FOX News Channel and other news outlets around the world. He is also a consultant to government agencies and an adjunct professor.
Mauro was originally hired in 2002 at age 16 to be a geopolitical analyst for Tactical Defense Concepts, a maritime-related security group.
His analysis and research has been widely published at places like FrontPage Magazine, PJ Media and the peer-reviewed journal, Middle East Quarterly. He has made over 1,000 appearances on radio and TV from both the left and the right.
Videos
---
Speech Topics
---
The Islamist Networks in America (can be customized to focus on networks closer to the event location)
Hitler's Islamist Allies and the War Today
Gradualism: The Islamist Plan for Victory
Related Speakers View all
---
Matthew Olsen

Former Director of the National Counterterrorism Cen...

Stewart Baker

First Assistant Secretary for Policy at the United S...

Dan Emmett

Author, Former US Marine Corps Captain, US Secret Se...

Frederic Wehrey

Senior Fellow of the Middle East Program at the Carn...

Sarah Chayes

Former Senior Fellow in Carnegie's Democracy and Rul...

Scott Aughenbaugh

Deputy Director, Strategic Futures, CSIS

Malcolm Nance

U.S. Intelligence Veteran, MSNBC Chief Terrorism Ana...

Nada Bakos

Former CIA Analyst and Targeting Officer

Carl Cameron

Former Chief Political Correspondent for Fox News; C...

James Barbour

Press Secretary at the British Embassy, Washington D...

Sarah O. Ladislaw

Co-Director and Senior Fellow, Energy and National S...

J. Christopher Daniel

Senior Associate (Consultant), Global Health Policy ...

Gideon Rose

Editor of "Foreign Affairs"; Member of the Council o...

Bing West

Correspondent & Military Author

Tom Davis

Former Congressman from Virginia

General Wesley Clark

Retired Four-Star Army General & Former NATO Supreme...

Robert D. Kaplan

Best-Selling Author & Atlantic Monthly Correspondent

Gene Healy

Vice President, CATO Institute

Daniel Pipes

Foreign policy expert & director of the Middle East ...

Oliver North

Combat-Decorated Marine, Best-Selling Author & Forme...
More like Ryan