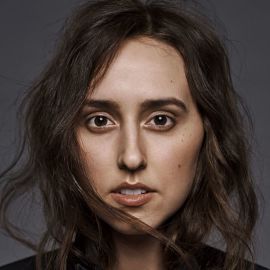 Sabrina Gonzalez Pasterski is a physicist who studies high energy physics. Pasterski completed her undergraduate studies at the Massachusetts Institute of Technology (MIT) and is currently a graduate student at Harvard University.
She has worked on the CMS experiment at the Large Hadron Collider. In a published article, Pasterski et al detailed their discovery of the "spin memory effect", which may be used to detect/verify the net effects of gravitational waves in 2014. In a 2015 solo paper, Pasterski completed the Pasterski–Strominger–Zhiboedov Triangle for electromagnetic memory that Stephen Hawking cited in early 2016.
She is also known for her advocacy and work with access to science education for girls across the globe. Pasterski was involved with former First Lady Michelle Obama's Let Girls Learn initiative in 2016. She has been recognized by the Annenberg Foundation for her efforts to promote science, technology, engineering, and mathematics (STEM) education for girls in Cuba. As well, her work promoting STEM education for girls in Russia has been recognized by the U.S Embassy in Moscow and Moscow Polytech.
Paterski has been acknowledged as a 2018 Albert Einstein Foundation Genius, and been awarded many prominent awards in her field, among them the 2010 Illinois Aviation Trades Association Industry Achievement Award, 2012 Lindau Nobel Laureate Meetings Young Researcher, and the 2013 MIT Physics Department Orloff Scholarship Award.