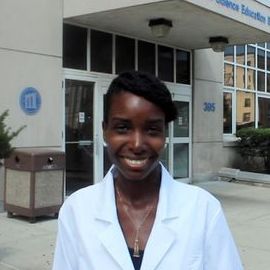 Sadeaqua Scott, PhD
Founder and CEO, Urban Health Science Initiative, Inc.; Molecular & Cellular Biologist
Dr. Sadeaqua Scott is a scientist with her Ph.D. in Molecular and Cellular Biology. She obtained her Ph.D. at SUNY (State University of New York) Downstate Medical Center in Brooklyn, NY, which is a university hospital located directly across the street from Kings County Hospital where she was born. Dr. Scott has nearly 20 years of experience in conducting research in environmental, entomology, genetic, HIV, cancer, cardiovascular and stem cell research laboratories. Most recently, she completed her senior postdoctoral research at the University of Miami as the lead scientist on a phase I clinical trial regarding the safety and efficacy of mesenchymal stem cell infusion for patients with type 2 diabetes and cardiovascular disease. She currently serves as voluntary faculty for SUNY Downstate Medical Center.
Dr. Scott has an extensive history of public speaking as a facilitator and educator. She has given motivational and educational speeches to elementary, high school, undergraduate and graduate students. As CEO and founder of the not-for-profit organization, Urban Health Science Initiative (UHSI), she has given lectures to underserved communities regarding health and wellness based on both peer-reviewed and community-based participatory research. The research conducted during her 6 years of running the UHSI has also pertained to natural regenerative and anti-aging technologies as well as the effects of the microbiome on cardiovascular health and longevity. Dr. Scott has also worked with Essence Magazine Editor-in-Chief emeritus, Susan L. Taylor and a team of experts on the curriculum development for her not-for-profit organization, The Risings and served as a guest speaker regarding health and nutrition.
When it comes to health and wellness topics, Dr. Scott hasn't just conducted research, she has applied it to her own lifestyle. As a successful raw fruitarian for 2.5 years and a fruitarian (with cooked foods) for an additional 2 years she has given health research consultations to struggling vegans, omnivores wellness professionals, fitness trainers and others experiencing ailments that physicians could not assist with. It is her passion to educate and provide the tools needed to recover health and wellness through natural methods.
Videos
---
Speech Topics
---
Anti-Aging and Regenerative Technologies; Health and Wellness; Natural Cancer Treatments; Vegan and Fruitarian Diet and Lifestyle; Stem Cells; Cancer Stem Cells; STEM Career Encouragement and Preparation (K-12)
Related Speakers View all
---
Tisha Rowe

Family Medicine Physician; Entrepreneur

Rachel Haurwitz

President & CEO of Caribou Biosciences, Inc.

Patrice A. Harris

First African-American Woman President of the Americ...

Raj Panjabi

Co-Founder & CEO, Last Mile Health; Assistant Profes...

Dr. Nadine Burke Harris

Surgeon General of California; Co-Founder and Former...

Marty Makary, M.D.

Healthcare Futurist, Johns Hopkins Surgeon & Profess...

Dr. Jennifer Ashton

Leading Women's Health Expert & Chief Medical Corres...

Dr. Zorba Paster

Physician & Radio Show Host

Miriam Cremer

Founder & President, Basic Health International (BHI...

Zeev Neuwirth

Senior Medical Director of Population Health, Atrium...

Douglas Yee, MD

Director of the Masonic Cancer Center at the Univers...

Dan Carucci

Global Medical Director at McCann Health

Rana Awdish

Critical Care Physician, Patient Advocate & Author o...

Katrina Armstrong

Physician-in-Chief, Department of Medicine, Massachu...

Jerome M. Adams

20th U.S. Surgeon General & Vice Admiral of the U.S....

Susan Silbermann

Global President & General Manager of Vaccines at Pf...

David Ansell

Senior Vice President for Community Health Equity at...

Steve McCarroll

Director of Genetics at Broad's Stanley Center for P...

Jonathan Goldfinger

Pediatrician; Member of California Surgeon General A...

Meg Gaines

Cancer Survivor, Health Activist & Attorney
More like Sadeaqua