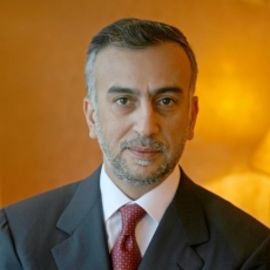 Saeed Al Muntafiq is a versatile senior executive with vast experience in the international arena, a career traversing diverse industries and a proven track record in delivering seemingly impossible results. Whether he is establishing a governance system for a multinational group, attracting media companies and projects to Dubai, spearheading a new brand position for a petroleum products company or identifying and retaining key talent, Saeed has been instrumental in leading businesses to breakthrough successes.
Until December 31, 2009, Saeed was the executive chairman of Tatweer, a multinational group of Dubai Holding that was formed to drive the city's large-scale infrastructure and investment projects. Under his leadership, the group's balance sheet has grown from US $1.7B to US $7.1B in three years and has produced revenues in excess of $2.8B.
Saeed has negotiated partnerships that have taken stake in Tatweer projects, including Tiger Woods, Universal Studios, Dreamworks, Marvel, and multiple regional and international investors. He has orchestrated multiple projects, including the Dubai Mercantile Exchange, Dubai Health Care City, Dream Work Animation theme park, Marvel Studios theme park, and Dubailand-– one of the largest projects in Dubai in terms of capital investment and size of aspiration.
Prior to Tatweer, Saeed served as director General under a Royal Decree issued by His Highness The Ruler to steer the strategic vision of Dubai Development & Investment Authority. He brought in more than US$13B in foreign direct investment to projects in Dubai specially those under Dubai Development and Investment Authority, formed an innovative think tank to diversify the economy, positioned the emirates as a hub for global sports organizations, and spearheaded Dubai Humanitarian City. Previously as Chief Executive Officer and Chairman of Dubai Media City, he transitioned the technology hub platform into a global media hub where all media-related businesses thrive together. Saeed focused on identifying and developing products for key strategic segments (broadcasting, publishing, market services, new media, music, entertainment, production and postproduction ) – an effort that attracted over 100 media companies in 18 months.
Before joining Dubai Media City, Saeed was headhunted by His Highness Sheikh Mohammad bin Rashid AI Maktoum, Prime Minister and Vice President of the UAE, and Ruler of Dubai to hold the position of Project Director at Dubai Internet City. He proved to be a key player in achieving the organization's vision of establishing Dubai as the first ever planned cluster as a technology, knowledge and content hub in the emirates. During his early career, he advanced to become the General Manager of Emirates Petroleum Lubricants Company( part of Emirates Petroleum Products Company EPPCO ), the second largest state owned oil company in the UAE that had a joint venture with Caltex Petroleum. Saeed was acknowledged as the first UAE national to be seconded to an international Caltex company operating outside of the UAE.
Saeed's career undoubtedly reflects successes in firmly situating the United Arab Emirates on the global map with a strong focus on Dubai. He won the American Business Council Regional Business Award while at Tatweer, and the organization received the Dubai Holding Excellence Award and Dubai Healthcare City won the Dubai Quality Award in the healthcare sector. Dubai Development & Investment Authority received the Dubai Government Excellence Award, and Saeed was recognized for the Best Management Initiative-Government Program and the Best Team Initiative-Al Ruwad the Culture & Innovation Initiative. He is affiliated with multiple professional organizations as either a Member of the Board, Chairman, Honorary Member, and Vice Chairman, including Dubai Economic Council, Canadian Business Council, Arab Strategy Forum, and Dubai Holding. Saeed graduated with a Bachelor of Arts Degree in International Relations from Schiller International University in the UK.