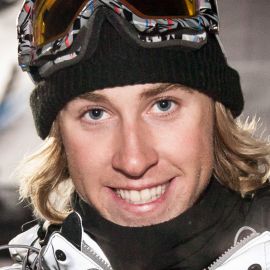 Sage Kotsenburg
First Olympic Gold Medalist in Men's Snowboard Slopestyle at the 2014 Winter Olympics
Someone who makes his U.S. Open debut at the age of 12 is bound to go places; Meet Sage Kotsenburg. The Park City native has been on snow for as long as he can remember and now spends most of his time beating out the competition on slopestyle courses around the globe.
The winter of 2010 was truly a breakout season for Kotsenburg, who won a Dew Cup, took fifth at X Games Aspen and notched a silver medal at X Games Europe. The 2011 season was just as fast-paced, as he took bronze at Winter X Games in big air and a bronze at The Arctic Challenge.
In 2012 Kotsenburg kept his momentum going, taking silver at X Games Aspen and second at the Sprint U.S. Grand Prix in Mammoth. To top off the season, he was invited to the prestigious and unique Red Bull Supernatural event, which features man-made and natural features scattered throughout a backcountry venue.
Kotsenburg saw two X Games invites in 2013 as well as a jump in his ranking on the World Snowboard Tour. He leaped up from 21st to an impressive 10th in the slopestyle world ranking.
Kotsenburg won slopestyle gold at the 2014 Sochi Olympics, nailing one trick he had never tried before and performing an original grab of his board he invented himself, called the "Holy Crail."