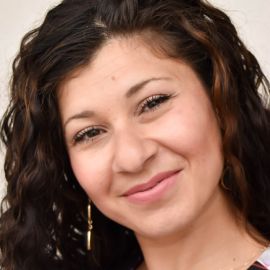 Sahar Paz
CEO, Own Your Voice Strategy Firm; Author, "Find Your Voice"; Speaker, Yoga Instructor & Life Coach
Sahar Paz is an author, professional speaker, personal branding expert and the CEO of Own Your Voice Strategy Firm where she has clients ranging from Gen Yers to Baby Boomers. Sahar has had the entrepreneurial spirit since the age of 13 when she launched her first company. With two decades of leadership experience, her keen communications and management skills were honed in her first managerial position in fashion, leading a multigenerational team with most members her senior. She then went into the conservative world of finance where she further learned how to own her voice, be strategic and navigate the complexities of an age-diverse team.
Inspired to share what she learned in business, Sahar pivoted and dedicated herself to giving a voice to people and issues by founding Free Your Star Foundation. The nonprofit empowered minority high school students in Brooklyn with programs and scholarships that focused on the business side of fashion. She continues to provide business and career advice to her former Millennial mentees now in the workforce.
Championing the voice of others to help them understand their emotional drivers and their personal power has always been Sahar's mission. Her book, Find Your Voice, part-memoir, part cognitive behaviour guide, epitomizes that pursuit. As a member of Gen X, she understands the common sentiment of her generation: feeling overlooked and underappreciated. Sahar is sought-after multigenerational translator known for being a dynamic keynote speaker who ignites excitement for a typically exasperated topic in the workplace--the generation gap.
Sahar is hailed as a conscious leader who offers the wisdom to lift up Gen X leaders to build better business practices. Keynote speaking clients have included several corporations, conferences, and universities, such as Facebook, HBO, Whole Foods, Greater Houston Partnership, Texas Medical Center, Emerging Women Live and the University of Denver. Audiences walk away with the skills to communicate fluidly across generations, build stronger teams and maintain company retention. Sahar currently lives in Houston with her dog Rico.
Videos
---
Speech Topics
---
Find Your Voice and Live the Life You Crave
Shamed and shushed as a young girl in Iran, Sahar lost her voice and almost her life because of a war of words within. In this powerful and breakthrough talk, Sahar inspires and motivates women to own and overcome their "conversation" within themselves while providing a practical path to inner peace via principles steeped in Cognitive Behavior Therapy. In entertaining and poignant fashion, she guides you to listen to your authentic voice and gives you tools to let go of shame, fear, guilt and self-sabotage to create the life you crave!
Setting Limits Sets you FREE: The Hidden Power of BETTER Boundaries
The most efficient way of creating a life that is true to your needs, wants and desires begins with setting boundaries. Stop saying yes, when you mean no and begin getting what you deserve.
Books
---
Related Speakers View all
---
Kristie Kennedy

Women's Worth & Wellness Expert, TEDx Audacious Lead...

Andrea Paquette

Mental Health Advocate, Founder & President of the S...

Dr. Janet Taylor

Self Care & Wellness Activist, Psychiatrist, Author ...

Bethanie Baynes

Founder, Breadwinning Women of the World; Director, ...

Lindsey Boggs

Mental Health & Suicide Prevention Advocate

Jacqueline Hayes

Motivational Author, Speaker, Coach and Consultant

Marti MacGibbon

Humorous Inspirational Speaker, Certified Mental Hea...

Kelly Lovell

Entrepreneur, Thought Leader , Millennial Influencer...

Tammi Fuller

Camp Director/TV Producer; Campowerment

Danielle LaPorte

Creator of "The Desire Map: A Guide To Creating Goal...

Alexis Jones

Female Empowerment Activist & Author of "I Am That G...

Dr. Robyn Silverman

Body Image, Bullying Expert & Leadership, Success Coach

Malaak Compton

Activist & Philanthropist

Sindi Somers

Animal Advocate, Writer, Animal Communicator, Medita...

Brooke Shields

Actress & Mental Health Advocate

Dr. Joyce E. Scott

Dr. Scott is a great motivational speaker, taking ca...

Christiane Northrup

Authority on Women's Health, Bestselling Author of "...

Laura Lawless Robertson

Former Miss Arizona, Attorney & Speaker on Mental He...

Lisa Cypers Kamen

Positive Psychology & Integrated Wellness Coaching

Mariel Hemingway

Actress, Author, Entrepreneur & Mental Health Activi...
More like Sahar