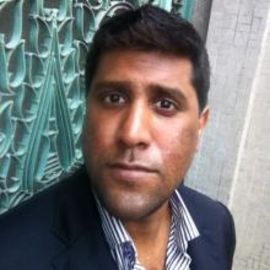 Sajeev Chakkalakal
Director- Investment Banking,Nova Capital Global Markets LLC.
Sajeev is currently a Director in the Investment Banking team at Nova Capital Global Markets. He spends his time between London and New York and is focused on the orgination, execution and distribution of emerging market debt and private equity transactions. Sajeev also acts as advisor/consultant for Nathan Associates (London) which is a global economic development consultancy. Prior to this, he worked at both commercial banks (Standard Chartered) and development financial institutions (FMO/Dutch Development Finance Bank) where he specialized in emerging markets private sector financing and growth. Furthermore, Sajeev has attended and been a speaker at several conferences and industry events both in the banking sector as well as in the broader emerging markets development space. Outside his professional life, he has sat on the board of UNOY (United Network of Youth Peacebuilders) which is a Hague based NGO that focuses on providing peacebuilding training to youths in current and recent conflict impacted countries. Sajeev is passionate about the role of private sector development in emerging markets and specifically creating new and innovate financing methods that are pro-poor.
Related Speakers View all
---
Tim Rutten

Marketing and Sales Manager, New Business Developmen...

Ben Knelman

Founder, CEO ,Juntos Finanzas

Harold Mateo

VP of Strategy & Business Development,RSC Global Ho...

Sena Luis David

Senior Market Risk Specialist,Superintendence of Ban...

Dmitry Vasilkov

Member of the Board,OilTech

Xicani Godínez López

Movimiento Carta de Recomendación./ Letter of Recom...

Adolfo Franco Hernandez

Director,CAUSAS.ORG (CAUSAS MEXICO)

Chip Johnson

Sr. Associate,Falfurrias Capital Partners

Toumani Sidibe

Chief of auditing and controls,Orange Mali (France T...

Christian Yang

Director of Engineering at McChrystal Group

Gonzalo Plaza

Executive Director,The Pearson Foundation

Matias Reeves

Cofounder,Educación 2020

Guo Feng Chan

Materials Engineer,Agilent Technologies

Zahid Mahmood

Founder and CEO,ILM Foundation

Dominic Llewellyn

CEO AchieveGood & Numbers4Good

Julio Martinez

Business Director & Founder,ADD+ Aliados del desarrollo

Daniel Gizzi

Co-Founder,Ascension Air Management

Cole Hoover

Director,Global Brigades

Michael Nganga

Principal Consultant,The Global Africa Consulting

Zhengbiao Liu

General Manager,Anshan Beifang Zhongzheng Fan manufa...
More like Sajeev