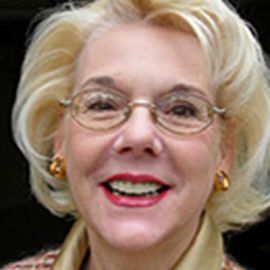 Sally Karioth
Healthcare Speaker, Grief Specialist
Some public speakers make you laugh. Some speakers make you cry. Some speakers make you look at life differently. Sally Karioth is a very special public speaker, because she makes you do all three. It is a gift she has acquired from her varied experiences as a nurse, teacher, writer, talk-show hostess and nationally renowned grief therapist. If one sentence characterizes the message of her speeches, it is her slogan: "Life is not a dress rehearsal."
"Everyday," she tells audiences, "you should have at least one exquisite moment."
Sally Karioth is an Assistant Dean and professor at Florida State University. She holds degrees from the Wisconsin-Green Bay Bellin School of Nursing, the University of Wisconsin-Madison, Florida State University and the University of Florida. She also has done post graduate work in genetics at University College London. Dr. Karioth is a longtime faculty member of the Florida State University College of Nursing, where she teaches one of the university's most popular courses, called "Death, the Individual and the Family." To date she has taught over 25,000 students at FSU and has won every teaching award the University awards. She takes students to London both over spring break and in the summer. She continues to say that every year she is allowed to teach she remains the luckiest woman at FSU. 2016 begins her 46th year on the faculty. She is widely published and her book: "If you want to know if you're dying ask the cleaning lady" has sold over 80,000 copies.
For more than 40 years, Karioth also has been in private practice, helping people cope with the death of loved ones. Her particular concern is parents who have lost a child to death.
Karioth, a Certified Traumatologist (CT) has been active in trauma work, and is called frequently to events nationwide to speak to tragedy survivors and mental health officials suffering compassion fatigue. An oft sought after television and media personality including having given a TED talk she has been in two award winning films and continues to be utilized as a frequent commentator and expert in traumatic worldwide events.
Dr. Karioth Logs over 50,000 miles a year talking to healthcare and business groups, carrying the message : "Life is what you Make it Make the Best of it"
Videos
---
Speech Topics
---
Enjoy Life: This is Not a Dress Rehearsal
Calling on her 40 years of experience as a grief therapist she will utilize personal anecdotes to remind the listeners to find the exquisite moments in each day. Dr. Karioth will show us how to distinguish between minor and major events. She will encourage us, as an alternative to compassion fatigue, to internalize compassion energy that allows us to not be overwhelmed by observing others suffering but to be energized by helping alleviate that suffering. Dr. Karioth will remind all of us that our work is to help the helpless, to care when we can't cure and to be grateful not only for the lives we touch but the lives that touch us.
Related Speakers View all
---
Lori La Bey

Driving Change How Caregiving is Perceived, Received...

Michelle Aguilar

Winner of NBC's "The Biggest Loser" Season 6, Author...

Hydeia Broadbent

AIDS Activist & Advocate

Jeanne Robertson

Humorist, Former Miss Congeniality & Professional Sp...

Shannon Miller

Olympic Gold Medalist, Health Advocate & Cancer Surv...

Geralyn Lucas

Breast Cancer Survivor & Author of "Why I Wore Lipst...

Lisa Leslie

WNBA Champion, Olympic Gold Medalist & Author of "Do...

Ann Jillian

Emmy-Nominated Actress & Work/Life Balance Promoter

Temple Grandin

World-Famous Animal Scientist, Autism Self-Advocate ...

Juliet Funt

Founder, Owner & CEO of WhiteSpace at Work

Christine Cashen

Hall of Fame Motivational Speaker; Author of "The Go...

Tanya Brown

Mental Health & Domestic Violence Prevention Advocate

Erin Brockovich

Consumer Advocate, Author, TV Host & Environmental A...

Amanda Lindhout

Executive Director of The Global Enrichment Foundati...

Lauren Potter

Actress Best Known for "Glee;" Special Needs Advocate

Marlen Esparza

US Boxing Champion & Olympian

Jessica Herrin

Founder & CEO of Stella & Dot

Barbara Rubel

Barbara Rubel, MA, BCETS, CBC, CPBC is a nationally ...

Anthony Rao

Nationally Recognized Child Psychologist & Author of...

Tabatha Coffey

Hairstylist, TV Personality, Author
More like Sally