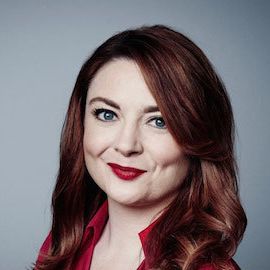 Samantha Barry
Editor-In-Chief at Glamour; Former Executive Producer of Social and Emerging Media for CNN Worldwide
Samantha Barry is the editor-in-chief of Glamour (U.S. Edition). She has held this role since 2018, when she became the eighth editor of the magazine since it was founded in 1939. Barry, who was born and raised in Ireland, became the first editor-in-chief of a Conde Nast publication to have never previously worked in print media when she was appointed editor-in-chief of Glamour.
Under Barry's leadership, Glamour ceased to be a monthly print publication, now working under a digital-first model. The January 2019 issue of Glamour was the last monthly print issue.
Starting with The University Examiner, Barry has worked as a reporter and journalist for RTÉ, the Australian Broadcasting Corporation, Newstalk, the BBC and CNN, where she was an executive producer for CNN Worldwide.
Barry holds an Arts degree in English and Psychology from University College Cork and an MA in Journalism from Dublin City University. Barry has previously worked as a guest lecturer at Yale University and is a Sulzberger Fellow at Columbia University.