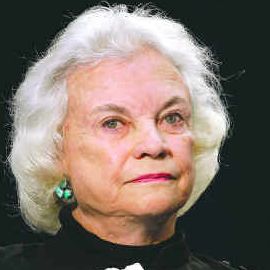 Sandra Day O'Connor is a retired Justice of the Supreme Court of the United States, who served from her 1981 appointment by President Ronald Reagan until her retirement in 2006. She was the first woman to serve on the Court.
Prior to O'Connor's tenure on the Court, she was a judge and an elected official in Arizona, serving as the first female Majority Leader of a state senate as the Republican leader in the Arizona Senate. Upon her nomination to the Court, O'Connor was confirmed unanimously by the Senate. On July 1, 2005, she announced her intention to retire effective upon the confirmation of a successor. Samuel Alito was nominated to take her seat in October 2005 and joined the Court on January 31, 2006.
As a moderate Republican, O'Connor tended to approach each case narrowly without seeking to establish sweeping precedents. She most frequently sided with the Court's conservative bloc, having the swing opinion in many decisions. She often wrote concurring opinions that limited the reach of the majority holding. Her majority opinions in landmark cases include Grutter v. Bollinger and Hamdi v. Rumsfeld. She also wrote in part the per curiam majority opinion in Bush v. Gore and was one of three co-authors of the lead opinion in Planned Parenthood v. Casey.
During her time on the court, some publications ranked her among the most powerful women in the world. On August 12, 2009, she was awarded the Presidential Medal of Freedom by President Barack Obama.
Her husband suffered from Alzheimer's disease for nearly 20 years, until his death in 2009, and she became involved in raising awareness of the disease. After retiring from the Court, O'Connor moved to Phoenix, Arizona.
In October 2018, O'Connor announced her effective retirement from public life after disclosing that she had been diagnosed with the early stages of Alzheimer's-like dementia.
Related Speakers View all
---
Linda Hirshman

Supreme Court Lawyer, Renowned Expert on Social Chan...

Billie Jean King

Former World #1 Professional Tennis Player & Sports ...

Thomas Friedman

Three-Time Pulitzer Prize Winning Commentator; New Y...

Mickey Edwards

Vice President & Program Director, Rodel Fellowships...

Stephen Breyer

Associate Justice of the Supreme Court of the United...

Seth Berkley

CEO of Gavi, the Vaccine Alliance; Medical Doctor Sp...

Reid Hoffman

Co-Founder & Former Executive Chairman of LinkedIn; ...

Anna Deavere Smith

Award-Winning Actress, Playwright, Social Commentator

Katty Kay

Anchor on BBC World News America; Co-Author of "Wome...

Tim O'Reilly

Founder and CEO, O'Reilly Media

Clive Crook

Columnist and member of the editorial board at Bloom...

Bill Gates

Co-Founder of Microsoft; Co-Chair of the Bill & Meli...

Nicholas Burns

Professor of the Practice of Diplomacy & Internation...

Vijay V. Vaitheeswaran

Global Correspondent, The Economist; Author, Speaker...

Biz Stone

Co-Founder of Twitter

Eric Schmidt

Former Executive Chairman at Alphabet Inc. & Former ...

David M. Rubenstein

Co-Founder & Co-CEO of The Carlyle Group

Dr. Dean Ornish

Physician, Leading Researcher in Healthcare, Founder...

Joy Buolamwini

Founder of Algorithmic Justice League & Researcher a...

Andy Buckley

Actor, Screenwriter & Stockbroker; Known for his Rol...
More like Sandra