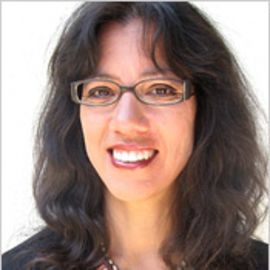 Award-winning writer, New York Times notable author, academic and host of the syndicated radio show "The Loh Down on Science," which reaches over 4 million people each week, Sandra Tsing Loh is the author of the best-selling new book The Madwoman In The Volvo: My Year Of Raging Hormones, and is currently in production for her next uproarious one-woman show of the same title. In a voice that is wry, disarming and totally candid, Loh tells the moving
and laugh-out-loud tale of her roller coaster through "the change." This is not your grandmother's menopause story. Loh chronicles utterly relatable, everyday perils: raising preteen daughters, weathering hormonal changes and going through the ups and downs of a career and a relationship — including an affair and the explosion of her marriage — in addition to the pressures of keeping her daughters off Facebook while managing the legal and marital hijinks of her eighty-nine-year-old dad, and speaks hilariously and honestly about her life as a mother, daughter and artist.
Her previous book, Mother on Fire, was inspired by her comical hit show on weathering the Los Angeles public education system, and reflects her passionate commitment to quality public education for all. A huge hit with women, she speaks to the often funny and sometimes poignant struggles that women face, particularly in regards to motherhood, menopause and weathering the little and big storms that life brews.
Described as "imaginatively twisted and fearless" by the Los Angeles Times, Loh is a brilliant academic and hysterically funny comedienne and writer. Her sparkling combination of wit and academic knowledge easily reaches a wide range of audiences. This accomplished, award-winning talent says that after she earned a BS in physics at Caltech, she went on to "sorely disappoint her Chinese engineer father" by pursuing a career in the liberal arts. Shortly thereafter, she went on to receive Caltech's Distinguished Alumna Award, its highest honor.
Named one of the 50 most influential comedians by Variety, the wickedly smart Loh uses her unique brand of humor to connect to audiences, and tailors each presentation to create a memorable, funny and uplifting experience.
Speech Topics
---
The Madwoman in the Volvo (Menopause 2020)
2015 marks an extraordinary milestone; almost one in every two U.S. women will be menopausal, and the majority of American women will be 45 years old or more. This is a time of huge challenge and potential: many middle-aged women are caregiving for two generations (Loh's term is "the Triple Ms"—middle-aged mothers in menopause), and they also have more money and power than ever before. Thriving—and even just coping—during this time will take a lot more than following the standard medical advice of avoiding alcohol, sugar and caffeine and doubling kale intake. This talk is inspired by Loh's New York Times notable book, The Madwoman in the Volvo: My Year of Raging Hormones.
Mother on Fire (Public Education 2020)
Public education is a noble idea, but when educated, middle-class parents survey the test scores of poor, heavily minority-populated urban schools, the first instinct is to flee. Loh's bestselling Mother on Fire, which the New York Times calls "a feat of genius," charts her trajectory from private school wannabe to consciousness-raising Burning Mom. Via Loh's personal experiences vigorously "Tiger Mom"-ing her daughters' entire Title One Los Angeles school (where English learners experienced everything from chess to violin), she found new appreciation for the unsung teachers who toil on with often unsung ingenuity and grace. They are the real heroes, as public school is the civil rights issue of our generation.
Science Education 2020
U.S. science education is in crisis. We rank 28 out of the 34 leading countries in math and science. Our failure to improve STEM education has resulted in 3 million open jobs and 8% unemployment. Girls and minorities are underrepresented. Vague government hand-wringing, lengthy white papers and weekend robotics fairs are only a quick fix. Caltech physics grad, daughter of a Chinese Tiger Father, host of the syndicated radio science minute "The Loh Down on Science," and mother of two daughters in L.A. public schools, Loh delves into the past, present and hopeful future of robust, rigorous and engaging 21st Century science education.
Science Communication 2020
Almost 50 years since man landed on the moon, almost half of America still believes in Creationism. This part of the population's opinion on climate change varies, depending on how well or poorly the economy is doing. Our iPhones harness computing power that used to launch rockets, and we use this technology to find the nearest Cheesecake Factory. Raising American scientific literacy is key, not just for the advancement of science, but for Earth's future—solutions to our global problems will be not just technological but human. As Neil DeGrasse Tyson's two million Twitter followers suggest, 21st Century scientists are capable of being both technical experts and effective communicators.
Related Speakers View all
---
Caitlin Flanagan

Contributing Writer at The Atlantic & Author of "Gi...

David and Lisa Frisbie

executive directors of The Center for Marriage & Fam...

Tamara Taylor

Founder & CEO: Seasonal Journey to Purpose & Success

Terri Britt

Former Miss USA; Motivational Speaker; "The Enlighte...

Erin Gruwell

Founder & Executive Director of the Freedom Writers ...

Kate Flannery

Actress, Singer & Writer, Best-Known for her Role on...

Greg Fitzsimmons

Comedian, Writer, Producer; Host of the Sirius XM Ra...

Joy Behar

Comedian, Actress & Former Co-Host of "The View"

Linda Hirshman

Supreme Court Lawyer, Renowned Expert on Social Chan...

Tonya Craft

Author of "The Truth Will Set You Free" and "Accused"

Renee Richards

Former Transgender Professional Tennis Player

Nina Tassler

Former Television Executive, Author & Activist

Bel Pesce

Brazilian Entrepreneur, Author, and Founder

Abigail Thomas

Author of "What Comes Next and How to Like it"

Barbara Terry

Automotive Spokesperson, TV Host, Marketing Expert,...

Michelle Garcia Winner

Founder of Social Thinking

Dr. Dionna Hancock-Johnson

Celebrity Life Coach, Motivational Speaker, Psycholo...

Amanda Filipacchi

Novelist Known for Book "The Unfortunate Importance ...

Sue Chen

Nova Medical Products

Zerlina Maxwell

Political Analyst, Sexual Assault Awareness Advocate...
More like Sandra