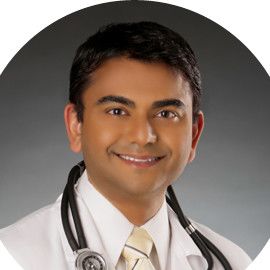 Sanjay Jain
Accomplished Medical Doctor, Health Expert, Life Coach, Inspirational Speaker and Author
Sanjay Jain, M.D. is an accomplished medical doctor, health expert, life coach, inspirational keynote speaker and author who has dedicated his life to helping people find their purpose by achieving a meaningful life that they deeply cherish. A passionate life-loving man, Dr. Jain has studied principles of healthy living, happiness, life balance and self development for several years.
Sanjay shares from his own place of deep personal experiences: lost and confused in a series of deeply frustrating circumstances affecting his own life, Dr. Jain applied the very principles he teaches that have dramatically transformed his own life. His motivation is being the underdog. When at several times throughout his life, people never gave him the chance, Dr. Jain continued to believe in himself despite the odds. He has had his share of failures in life. However, it goes without saying that success can only be achieved by having gone through the process of failures.. As a doctor, he was able to make a difference on a one-to-one basis. However that limited his capacity to reach out and help more people. His goal is to expand beyond those confines and share his message to as many people who need it.
As a life, health and self development speaker, Dr. Jain encourages and inspires people from all walks of life. He is dedicated toward educating the public on elements of living the most optimal life.
A keynote speaker and Academy Member of the National Speakers Association (NSA), Dr. Jain's speaking and consulting clients come from all walks of life including government and health organizations, major media, corporations along with a wide variety of professional associations, international organizations and universities. His presentations blend provocative and inspirational insights to enable his audiences to take positive action and to stay motivated. He is accustomed to tailoring his presentations to his audiences as he identifies the core needs that will have the most impactful and powerful affect for change and personal transformation.
In addition to his Doctorate of Medicine and Bachelor's of Science in Life Sciences, Dr. Jain has also earned his MBA. The combination of which has given him a unique voice and understanding of the many issues we face today in a real and practical sense.
His book, "Optimal Living 360: Smart Decision for Making For a Balanced Life" will be released by Greenleaf Books in January 2014.
Dr. Jain currently resides in Potomac, Maryland, where he balances his time with his work and his family of two sons and wife.
Related Speakers View all
---
Dr. Lloyd Minor

Scientist, Surgeon & Academic Leader; Dean of the St...

Adewale Troutman, MD, MPH, MA, CPH

President, American Public Health Association (APHA)...

Dr. Bon Ku

Emergency Medicine Specialist & Director of the Heal...

Dr. Carol Addy

Endocrinologist, Expert on Diabetes and Obesity & Ch...

Dr. Steven Gundry

Cardiothoracic Surgeon, Heart Surgeon, Medical Resea...

Verna Lavender

Head of Guy's Cancer Academy & President of UK Oncol...

Dr. Elizabeth Jaffee

Deputy Director of the Comprehensive Cancer Center a...

Lisa Fitzpatrick

Founder & CEO of Grapevine Health; Former Medical Di...

Shoshana Ungerleider, MD

Physician, Founder, Academy Award-Nominated Film Pro...

Phil Cheetham

Director of Sport Technology & Innovation at the US ...

Dan Carucci

Global Medical Director at McCann Health

Katrina Armstrong

Physician-in-Chief, Department of Medicine, Massachu...

Dr. Marie Brown

Senior Physician Advisor for the American Medical As...

Jerome M. Adams

20th U.S. Surgeon General & Vice Admiral of the U.S....

David Casarett MD

Physician, Author, Researcher, Entrepreneur

Dr. Flemming Ornskov

Chief Executive Officer, Shire

Dr. Delaney Ruston

Physician & Documentary Filmmaker; Best Known for "S...

Peter W. Benjamin

Health and Life Coach, Manual Therapist, LMT, CPT

Dr. Connie Mariano

Former White House Physician; Rear Admiral of the U....

Dr. Aenor Sawyer

Orthopedic Surgeon; Associate Director of Strategic ...
More like Sanjay