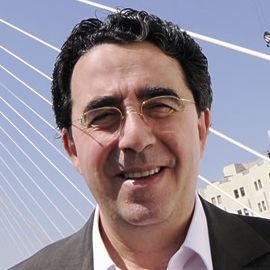 Architect and sculptor Santiago Calatrava was born in Valencia, Spain, in 1951. He earned a degree in architecture and then in civil engineering, intrigued by the mathematics behind historic architecture. Early in his career, Calatrava worked as an engineer and began to enter architectural competitions, believing this was his most likely way to secure commissions. His first winning competition proposal, in 1983, was for the design and construction of Stadelhofen Railway Station in Zurich. The next year, Calatrava designed and built a bridge for the Olympic Games in Barcelona; this was the beginning of a series of bridge projects that established his international reputation.
In the mid-1980s, Calatrava began to get hired for large-scale public projects, and opened offices for his company in Zurich, Paris. and Valencia. During this period, he also began to exhibit his abstract sculptures in museums and galleries. Calatrava regularly traverses the lines between art and architecture; his buildings are frequently called sculptural, while his sculptures and paintings are like sketches of buildings.
Calatrava is known for his flowing, curved buildings. He uses steel, concrete, and new computer modeling to create compositions that appear at once natural and structurally impossible. If "form follows function" was a rallying cry of modern architecture, Calatrava's postmodern structures turn this maxim on its head. His designs suggest stylized natural objects -- waves, wings, or sun-bleached skeletons, with rows of white concrete ribs curved into distorted parabolic arches. The true purpose of these dramatic contours are typically more aesthetic than structural.
Videos
---
News
---
Santiago Calatrava does works of art
The canvas and creativity drive renowned architect Santiago Calatrava's ... Enid Alvarez/New York Daily News Santiago Calatrava in his Park Ave. studio.