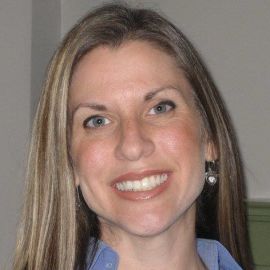 Sarah Allen Benton, M.S., LMHC, LPC
Licensed Mental Health Counselor Specializing in Adolescent/Young Adult Addiction; Author of "Understanding the High-Functioning Alcoholic"
Sarah Allen Benton, M.S., LMHC, LPC is the owner of Benton Behavioral Health Consulting, LLC that provides addiction/mental health assessment, treatment placement and business consultation. She is also a Therapist at Insight Counseling in Ridgefield, Connecticut specializing in outpatient adolescent/young adult addiction services, family support, and mental health services for clients of all ages. Sarah is author of the book "Understanding the High-functioning Alcoholic." She gives presentations and clinical trainings on the topic of high-functioning alcoholics and other addiction-related topics at schools, colleges, addiction treatment programs/conferences and to the general public.
Sarah was formerly a Primary Therapist at Turning Point addiction treatment program for young adult men in New Haven, CT. Previously, she worked at McLean Hospital (affiliated with Harvard Medical School) at McLean Brook transitional living program for substance abuse and dual diagnosis treatment in Waltham, Massachusetts. She has also worked as a consultant for the O'Connor Professional Group intensive case management services for addiction, eating disorder and mental health issues based out of Boston, MA and in private practive at Lynch Wellness and Recovery Foundation in Norwell, MA. Additionally, Sarah worked as a Therapist at the Emmanuel College Counseling Center in Boston, MA where she was the leader of the Alcohol Skills Training Program directed toward helping college-age problem drinkers.
She earned a Master of Science in Counseling Psychology degree from Northeastern University and has been involved in psychologically-based research studies through McLean Hospital, Beth Israel Deaconess Medical Center, Northeastern University and the Boston University Center for Anxiety and Related Disorders. She was formerly the Vice-President of the Obsessive-Compulsive Foundation of Greater Boston. Benton has been featured in a NY Times article by Jane Brody, has appeared on The Oprah Winfrey Show, The Today Show, The CBS Early Show, NPR and more. She has been in recovery from alcoholism since February 2004.
Speech Topics
---
"Understanding and Treating the High-Functioning Alcoholic"
This presentation may begin with Sarah Allen Benton's personal story of addiction and recovery as a high-functioning alcoholic (HFA) used as a case study. The characteristics, personality traits, recovery and treatment challenges of high-functioning alcoholics will be described based on original interviews and information obtained for her book. DSM-IV TR and DSM-V diagnostic criteria will be analyzed as it relates to this topic as well as relevant research studies cited. In addition, the early recovery experience of HFAs will be compared to that of lower functioning alcoholics. Finally, treatment suggestions will be offered that are unique for the HFA population.
"12-Step Program Integration for Dual-Diagnosis Treatment"
This presentation will give a brief overview of evidence based dual diagnosis treatment and how 12-Step Programs are often involved in that process. The purpose, intention and limitations of 12-Step programs will be described. Additionally, appropriate and inappropriate integration of 12-Step program concepts, literature and suggestions that compliment dual diagnosis treatment will be described. Case examples will also be used to demonstrate how best to combine these treatment modalities.
"Evidence-Based Treatment for Dual Diagnosis and Co-Occurring Disorders"
This presentation offers education about dual diagnosis (concept and stats) and evidence based integrated treatment approaches for working with clients who have dual diagnosis (treating both the addiction and the mental health components). Additionally, strategies and approaches for speaking openly about dual diagnosis concepts with clients and psycho-education techniques are presented.
Related Speakers View all
---
Joani Gammill

Expert on Alcoholism & Addiction

Sam Quinones

Journalist & Author of "Dreamland: The True Tale of ...

Marti MacGibbon

Humorous Inspirational Speaker, Certified Mental Hea...

Marty Angelo

Minister/author to prisons, rehabs & troubled celebr...

Chris Herren

Former NBA Player & Speaker on Substance Abuse Disor...

Kevin Hines

Brain Health Advocate & Storyteller

Steve Ford

Actor & Son of President Gerald Ford

Dr. James D. Huysman, LCSW, CAP

Senior Clinical Advisor for the Caron Treatment Cent...

Anna David

Sex, Dating, Relationship, & Recovery Expert; Editor...

Jason Wahler

TV Personality, Known for "Laguna Beach" "The Hills"...

Daniel Ciccarone

Professor of Family & Community Medicine at UCSF Med...

Gabrielle Glaser

Author, Award-winning Journalist

Tony Hoffman

Pro BMX Competitor & Recovering Addict

Todd Marinovich

Former NFL Quarterback for the Los Angeles Raiders

Danny Trejo

Actor, Activist & Restaurateur

Jamie Tworkowski

Founder of To Write Love on Her Arms

Mackenzie Phillips

Actress, Singer & Author of "High on Arrival: A Mem...

Laura Lawless Robertson

Former Miss Arizona, Attorney, Speaker on Mental Health

Jamie Lee Curtis

Actress, Activist, Author; Best Known For Her Roles ...

Nick Carter

Member of the Pop Group the Backstreet Boys; Dancing...
More like Sarah