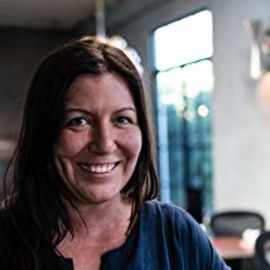 Sarah Anthony
Documentary Film Producer
Sarah Anthony's documentary career began at Paladin InVision in London, with credits spanning a broad spectrum of subjects for the BBC, Channel 4 and PBS including Commanding Heights – the Battle for the World Ecomony; 1421 – the year China discovered America?; Extreme Oil; and Sinatra: Dark Star, among others.
After leaving London, Sarah worked in Boston for PBS FRONTLINE as the Associate Producer on The Age of AIDS, a four-hour series which received the Dupont Columbia Journalism Award, a special Emmy award for health reporting, and the Robert F. Kennedy Human Rights Award. Sarah developed an outreach campaign based on the film, working with national AIDS organizations and community outreach groups to host testing and educational events around the country. She also designed two educational toolkits - one for training journalists to report on HIV/AIDS, and another for educating high school students about the epidemic.
Sarah joined Exclusive Media as the Co-Head of Documentary Features in 2007, where she over-saw production and development of numerous films, including George Harrison: Living in the Material World, Last Play at Shea, the story of Billy Joel's final concert at historic Shea Stadium, and the Academy-award winning Undefeated. In 2010 Sarah returned to FRONTLINE to produce Endgame: AIDS in Black America, and received a Kaiser Foundation Journalism Fellowship for health-care reporting. In 2012 she worked with Actual Reality as the Line Producer on R. J. Cutler's The World According to Dick Cheney.
In 2013, Sarah added public art events to her resume, producing a national photography tour on the subject of immigration for French artist JR's Inside Out Project, with the Emerson Collective, a social-justice foundation created by Laurene Powell-Jobs. She also worked with Laurene and director Davis Guggenheim to produce The Dream is Now, a short documentary about the Dream Act and immigration reform. She produced and directed the music video for Megan Keely's Dream it Now and participated in the outreach campaign for Emerson. In 2015 she filmed and produced a series of videos for Emerson's XQ Super School project, a non-profit education initiative about redesigning the American high-school system.
In 2016 Sarah founded Same Cities, a non-profit dedicated to creating a global movement for community improvement. The initial exhibition was a walking tour of Los Angeles through street photography, which highlighted the cultural and economic diversity of the city. Same City: L.A. opened in Los Angeles in the summer of 2016 with touring exhibitions in high school and colleges as well as public gallery spaces. Funds raised from exhibitions and sales of the photographs are being donated to community projects that focus on food justice, education and community beautification.
She was most recently a producer on the Grammy-winning HBO documentary series The Defiant Ones, and is completing production on Kailash for Participant Media, which chronicles the life and work of Kailash Satyarthi who won the Nobel Peace Prize in 2014 for rescuing child slaves. The film won the Grand Jury Prize at the 2018 Sundance Film Festival. It will raise awareness about the issue of child slavery, and the goal is to change the global conversation about corporate and consumer responsibility in ensuring ethical supply chains. She is currently working as a show runner for an unannounced 10 part series for Netflix, and with Pulse Films producing a film for Netflix about Bikram Choudrey with director Eva Orner, and an untitled/unannounced music documentary with director James Marsh.
Videos
---
Speech Topics
---
Documentary films; Art and Social Justice; The marriage of creative and financial in film; Women in film; film budgeting; What does a producer do? ; film scheduling; Finding your purpose; "Making it" in Los Angeles; Reiki