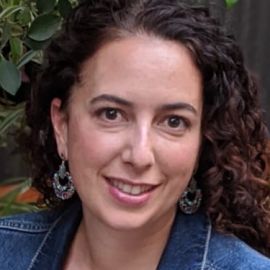 Sarah Aviram
The Ultimate Performance Journey Speaker & Best-Selling Author
Sarah Aviram was born and raised in New York, where she currently resides while still traveling the globe whenever she can. She holds a BA in Communications Studies from the University of Michigan and MBA in Leadership and Change Management from New York University Stern School of Business.
Sarah Aviram has held Human Resources and Talent Development leadership roles within Fortune 500 organizations like Avon, PepsiCo and many others. She has created programs and processes that have helped over 50,000 people feel more fulfilled in their careers. She is also the author of an Amazon #1 Best-Seller, ""Remotivation: The Remote Worker's Ultimate Guide to Life-Changing Fulfillment"".
Sarah has worked remotely from twelve different countries, and the more time she spent with other remote workers, the more she realized that they often felt stuck and unfulfilled even with the freedom and flexibility of their lifestyle. ⁠ Sarah decided then that she wanted to empower remote workers to stop the inertia of their unfulfilling careers and build ones with freedom, authenticity, and intention.
Sarah now travels the world virtually and to live events helping organizations and their remote workers better understand how to manage and activate their motivations for working. Sarah accomplishes that by showing them how they can create their own path to more joy and professional fulfillment in their careers and lives.
Speech Topics
---
? Six Ways to Unlock Your Why
? Create Your JIG Formula to Freedom
? What Flamenco Dancing and Your Career Have in Common
Related Speakers View all
---
Dave Logan, PhD

Author of New York Times #1 Bestseller "Tribal Leade...

Kate White

Former Editor-In-Chief of Cosmopolitan Magazine; New...

Dan Clark

Master Motivator, CEO, New York Times Bestseller & M...

Raj Subrameyer

Tech Career Coach & Author

Amanda Nachman

CEO & Publisher of College Magazine

Katrina McGhee

Founder & CEO of Loving on Me, Best-Selling Author, ...

Jairek Robbins

Performance Coach & #1 Bestselling Business Author

Jonathan Sandys

Speaking on the life & leadership of my great-grandf...

Bill Wooditch

Founder, CEO, and president of The Wooditch Group

Lauren McGoodwin

Founder & CEO of Career Contessa

Tonisha Pinckney

Empowerment Beyond Victimization - Author of I AM MO...

Elijah Ezendu

Award-Winning Business Expert & Software Architect +...

Lou Adler

CEO, Best-selling Author, Created Performance-based ...

Thomas DeLong

Author, Harvard Business School Professor of Managem...

Hypnotist The Incredible BORIS

Award-winning Motivational Hypnotist and Keynote Spe...

Grant D. Fairley

Inspirational Speaker and Teacher, Executive Coach &...

Coach Ken Carter

Coach, Author, Educator & Inspiration for the Film "...

Paul G. Stoltz

Creator of the Adversity Quotient, Expert Speaker on...

Ben Casnocha

Award-Winning Entrepreneur, Silicon Valley Executive...

Mark Victor Hansen

Founder & Author of Chicken Soup for the Soul Book S...
More like Sarah