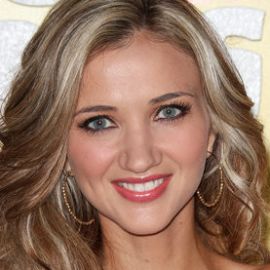 Sarah Darling
Country music singer/songwriter know for her hit songs, "Something to Do with Your Hands," "Little Umbrellas" and "Jack of Hearts"
The 5-foot-8 blonde in the blue sundress, sparkly Gladiator sandals and straw fedora doesn't look a bit like Kenny Chesney or Jimmy Buffett.
But Sarah Darling, the Iowa farm girl who spent her waitress' earnings to pursue Nashville dreams, references those men and their alcohol-and-sunshine, summer party tunes when discussing "Little Umbrellas," her Memorial Day Weekend release.
"It's Kenny Chesney-like or Jimmy Buffett-like a bunch," she says, bright blue eyes sparkling, of the playful tale she hopes will become a part of the soundtrack of summer 2013. Pure and simple, "Little Umbrellas" is a summer song she hopes will dance from radios and iPods at beaches and beer bashes. It counters the testosterone of those "guy songs" with estrogen and alcohol-fueled female fantasy.
The tune about women getting a little toasted and flirting with cabana men and the like is much more light-hearted than her romantic "Home to Me," which has been downloaded more than 125,000 times. And it doesn't carry the weight of "Blackbird," which she sang on "Let Us In-Nashville" a Sir Paul McCartney-approved collection of country-fried Beatles tunes to raise funds for breast cancer research. "That's my favorite Beatles song," she says of her contribution to the album whose cover is a portrait of breast cancer victim Linda McCartney.
She's won hearts and fans with her past releases with Black River Entertainment– "Every Monday Morning," "Angels & Devils" and the "Home to Me" EP – but Sarah is seeking much more for her future albums: "I want to make an album that truly defines me. I haven't done that yet."
However without making that long-awaited album, she's already won the support of The Nashville Convention and Visitors Bureau who have featured her in numerous tourism campaigns, appeared on CONAN and FOX's Fox & Friends, been called "a sophisticated songwriter with a crisp, powerful voice," by The New York Times and been featured in national campaigns with major brands such as MoonPie, Durango Boots, Crock-Pot, Viva paper towels and more. She also recently let her romantic side show on an episode of ABC's The Bachelor where she sang during a date.
Now, after a decade of waitressing, co-writing, gigging and learning on Music Row – she feels it's the time for that personal statement, and she hopes her fans are ready.Of course, her favorite way of connecting with her fans is by performing. She's just wrapped up a series of dates on tour with "American Idol" winner Scotty McCreery. "I've paid my dues," she says simply when talking about her life and accomplishments since leaving the family farm in Mitchellville, Iowa, just outside Des Moines.
"I'm a big believer that small towns are where big dreams are born," Sarah says, adding that her family encouraged this farm-fresh beauty as she took her powerful country voice from casinos to clubs to the Iowa State Fair before she packed her belongings (and a year's worth of tips and wages from Biaggi's Italian Restaurant) to move to Nashville.
Her family – particularly a grandfather "who genuinely loves the Lord" – nurtured the unashamed and profound spirituality that she leans on as she follows the dream whose highlights so far include nearly 35 performances on the Grand Ole Opry.
"Being a Christian grounds my life and keeps me strong," Sarah says, adding that her talent is among God's gifts and she is determined to "use it to the fullest."
She puts her faith in action by the way she lives. "To me, it's all about being good to people, being a kind person…. You can find God anywhere." Including in the kitchen, where she has earned acclaim in Nashville's music community for her pecan pies, tarts, "amazing monster cookies" and French macaroons.
Evidence of her greatest love, though, is the silver circle of hearts on her ring finger, given her when she accepted "posh Brit" graphic designer James Muriel's recent marriage proposal.
Videos
---