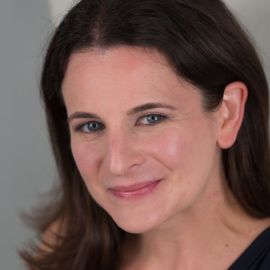 Sarah Hurwitz
First Lady Michelle Obama's Chief Speechwriter (2010-2017) & Author of "Here All Along"
Sarah Hurwitz was a White House speechwriter from 2009 to 2017, starting out as a senior speechwriter for President Barack Obama and then serving as chief speechwriter for First Lady Michelle Obama. Sarah worked with Mrs. Obama to craft widely-acclaimed addresses – including her 2016 Democratic National Convention speech and her political speeches during the 2016 campaign cycle – and traveled with the First Lady across America and to five continents. Sarah also worked on policy issues affecting young women and girls as a senior advisor to the White House Council on Women and Girls.
Before working at the White House, Sarah was chief speechwriter for Hillary Clinton during her 2008 presidential primary campaign. She then joined the Obama campaign, serving as a senior speechwriter for then-Senator Obama and helping Michelle Obama draft her 2008 Democratic National Convention speech. Prior to the Clinton and Obama campaigns, Sarah served as deputy chief speechwriter for Senator John Kerry's 2004 presidential campaign, deputy chief speechwriter for General Wesley Clark's primary campaign, and a speechwriter for Senator Tom Harkin of Iowa. Sarah was also a lawyer at the Washington, DC office of WilmerHale.
Hurwitz has been profiled in The Washington Post, The Boston Globe, and The Guardian; interviewed on BBC's Newshour; and featured in The Forward as one of 50 Jews who impacted American life in 2016.
A graduate of Harvard College and Harvard Law School, Hurwitz is the author of Here All Along: Finding Meaning, Spirituality, and a Deeper Connection to Life -- in Judaism (After Finally Choosing to Look There). Hurwitz offers audiences a behind-the-scenes look at life in the White House working for one of the most inspiring and influential women in the world. She also shares her advice on effective storytelling, providing concrete tips for how to create a moving, persuasive narrative that breaks through the noise and has a lasting impact.
Videos
---
Related Speakers View all
---
Dr. Erica Miller

Holocaust Survivor, International Award-Winning Auth...

Scott Rogowsky

Comedian & Former Host of HQ Triva

Michael Solomonov

James Beard Award-Winning Chef, Entrepreneur & Human...

Sharon Brous

Senior & Founding Rabbi of "Israel: Knowledge, Advoc...

Mickey Edwards

Vice President & Program Director, Rodel Fellowships...

Daniel Ayalon

Israeli Diplomat & Former Israeli Ambassador to the ...

Chella Man

Transgender Model, Activist & Artist

Dr. Ruth Westheimer

Popular Sex Therapist Known for "Sexually Speaking" ...

Susan Stamberg

Nationally Renowned Broadcast Journalist & NPR Speci...

Joshua Malina

Actor Known for his roles in "The West Wing" & "Scan...

Carol Leifer

Award-Winning Writer, Author, Actress & Standup Come...

Elizabeth Pipko

Founder of The Exodus Movement, Model, Athlete & Writer

Rachel Dratch

Comedian, Actress, and Former SNL Cast Member

Lior Raz

Israeli Actor & Screenwriter Best Known for "Fauda"

Beanie Feldstein

Actress, Known for "Booksmart," "Neighbors 2: Sorori...

Adam Greenberg

CEO of Lurong Living; Former Pro Baseball Player for...

Ruth Messinger

Global Ambassador of American Jewish World Service

Patricia Marx

Humorist, Writer, Contributor to "The New Yorker"

David Biale

Leading Scholar of Jewish Intellectual & Cultural Li...

Sally Kohn

Founder and CEO of Movement Vision Lab; Liberal Poli...
More like Sarah