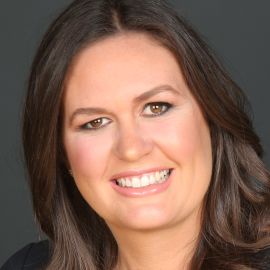 Sarah Huckabee Sanders served as White House Press Secretary for President Donald J. Trump from 2017 to 2019. A trusted confidante of the President, Sarah advised him on everything from press and communications strategy to personnel and policy. For two and a half years, Sarah was at the President's side, battling with the media, working with lawmakers and CEOs, and staffing the President on every foreign trip, including dozens of meetings with foreign leaders. Sarah is only the third woman and the very first mom to ever hold the job of White House Press Secretary.
Upon her departure from the administration, President Trump described Sarah as "irreplaceable," a "warrior" and "very special person with extraordinary talents, who has done an incredible job."
An early supporter of President Trump, Sarah joined the Trump campaign as a senior advisor in February 2016 during the Republican primary, and continued in that role through the President's defeat of Hillary Clinton, one of the greatest and most unexpected victories in American history.
Sarah has previously worked in leadership roles for U.S. Senators, Governors, and presidential campaigns. In Arkansas, Sarah was a senior advisor to Senator Tom Cotton in 2014 when he defeated incumbent Democratic Senator Mark Pryor, and was campaign manager for Senator John Boozman in 2010 when he defeated incumbent Democratic Senator Blanche Lincoln. And in 2007 and 2008, Sarah helped lead her father, former Arkansas Governor Mike Huckabee, to victory in the Iowa Caucuses and seven other states as his National Political Director.
Sarah has been named one of TIME Magazine's "40 under 40" and is recognized as one of the best political operatives of her generation.
Sarah has also advised major Fortune 500 companies and non-profits, including serving as campaign manager of the ONE campaign, a global non-profit founded by U2's Bono to take action to end extreme poverty and preventable disease, particularly in Africa.
She is married to her husband, Bryan, and they have three children, Scarlett, Huck, and George, and live in Little Rock, Arkansas.
Videos
---
News
---
Sarah Sanders becomes the latest ex-Trump official to join Fox News
Former White House press secretary Sarah Sanders has joined Fox News as a contributor, the network announced on Thursday. Sanders, who exited the White House in June, will make her debut before a live studio audience episode of "Fox & Friends" on September 6. She will provide political commentary across Fox News' on-air and digital properties.
Related Speakers View all
---
Candace Owens

Political Activist, Conservative Commentator & Found...

Meghan McCain

Co-Host of "The View," Political Columnist, Author &...

Mike Huckabee

Politician, Former Governor of Arkansas & Host of TB...

Carly Fiorina

First Woman to Lead a Fortune Top 20 Company; Busine...

Trey Gowdy

Attorney, Politician & Former Federal Prosecutor

Ann Coulter

Bestselling Author & Political Commentator

Chris Christie

Political Commentator on ABC News; Former Governor o...

Ana Navarro

Political Commentator on CNN & Co-Host on ABC's "The...

Laura Ingraham

Political Commentator, Television Host & Journalist

Heidi Heitkamp

Visiting Fellow of Harvard Kennedy School Institute ...

Jason Chaffetz

Fox News Contributor; Best-Selling Author; Former U....

Abby Huntsman

Journalist; Former Co-Host of "The View"

Michelle Malkin

Award-Winning Conservative Columnist & Best-Selling ...

John Kasich

Former Governor of Ohio

Donna Brazile

Veteran Political Strategist, Bestselling Author, Fo...

Kelly Craft

U.S. Ambassador to United Nations; First Woman to be...

Barbara Boxer

Former Democratic Senator of California

Sahle-Work Zewde

First Woman President of Ethiopia

Grace Meng

Lawyer, Congresswoman For New York's 6th Congression...

Maxine Waters

US Representative, California; Chairwoman, Committee...
More like Sarah