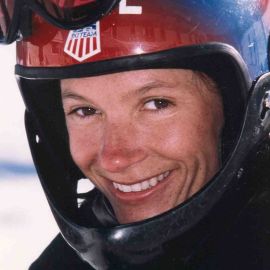 Sarah Will
Paralympic Skier; 13-time Medalist in the Winter Paralympic Games; United States Olympic Hall of Famer
Sarah Will was paralyzed from the waist down in a skiing accident in December of 1988. She was working as a carpenter in Aspen, Colorado pursuing one of her lifelong passions, skiing the Colorado Rockies. She was making first tracks in freshly fallen powder when her skis stuck and sent her out of control over a catwalk. It was a day that would change her life forever.
Since her first season pass in 1972 at the age of four, skiing has always been a big part of Will's life. When she was just nine years old, she became a member of the Pico Mountain Ski Team. By the time she was a freshman at Green Mountain College in 1984, she was the most valuable member of the Green Mountain College ski team ranked 20th in the nation. These experiences taught her about sacrifice, setting goals, and striving to do her best. They also gave her a taste for the joys of sport. These lessons proved invaluable as Will faced the challenge of her life.
One year after her accident, Will was back on snow, taking her first run in a monoski. She focused on the positives and pondered what she could do, rather than what she could not do.
She went on to spend 11 years on the U.S. Disabled Ski Team, during which she won a record 13 medals (12 gold, 1 silver) and competed in four Winter Paralympic Games. In 2009, she was named to the United States Olympic Hall of fame.
Will wants recognition as a leader in her sport, not as a disabled person excelling in a disabled sport. "It's not a disability, it's an ability. You can go out and do anything you want to do, but you have to be the one that makes that decision. You can learn a lot from other people, but you just have to go out there and do it yourself."
In 1992, Will became a member of the U.S. Winter Paralympic Team, and in Albertville, France, captured two Gold medals in the Downhill and Super G. At the Canadian National Championships, immediately following the Paralympics, she finished with three gold medals. Her times beat all but one man in the monoski category.
Will has used her sport to propel her life forward. Full of determination and youthful exuberance, Will has overcome her physical handicap by refusing to accept any limitations. The reigning world champion in her sport, she competed for the Gold at the 1994 Paralympics in Lillehammer, Norway.
Will has also spent her career helping others. She worked with Chris Waddell on an introductory program form mono-ski racers and continues to run that program at Vail. Her success has been recognized with induction into the Colorado Ski and Snowboard Museum and Hall of Fame and most recently into the U.S. Olympic Hall of Fame.
Videos
---