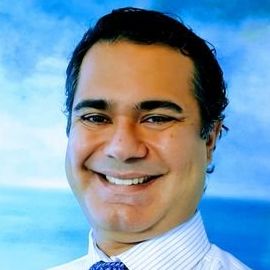 Dr. Bhusri completed all of his advanced medical training at Lenox Hill Hospital on the Upper East Side of New York City. During his tenure, he served as the Ira Hoffman, MD Chief Medical Resident, was President of the House Officer Association, and served as Chief Cardiac Fellow.
Dr. Bhusri graduated from Cornell University as a Cornell Tradition Scholar with a B.S. in Genetics & Development and SUNY-Downstate College of Medicine in Brooklyn as an Alumni Scholar. He has extensive research experience in molecular oncology and molecular hematology from Cold Spring Harbor Labs and Harvard Medical School, respectively.
In 2015, Dr. Bhusri suffered from Cardiac Shock and was himself hospitalized for a month in Intensive Care. He was given only a 20% chance of survival. He survived. The doctor became the patient. With a strong network of top physicians and supportive family, he persevered.
This experience became the cornerstone of his life and made him a more mindful and healthy person, physician, husband and father. It is his hope to share this experience with his patients as he helps them to become more mindful and healthy in their lives.
The expertise that Dr. Bhusri brings to his field has been featured in Forbes, NBC News, CBS News, SiriusXM Radio, The New York Times Magazine, CNN, Comcast, US News & World Report, WebMD, NY Daily News and Healthday News.
Videos
---
Speech Topics
---
Surviving critical illness