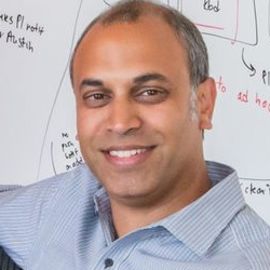 Satya Patel
Partner at Homebrew; Executive Chairman,Stealth; Board Member, KIPP Bay Area Schools
Satya Patel is currently Partner at Homebrew. He is the former Vice President Product at Twitter, leading product management and support.
Earlier in his career, Satya was a Senior Associate at Impact Venture Partners, an early stage venture capital firm based in New York, where he focused on investments in the Internet software, services and media markets. Representative investments include OpenTable and MessageOne. Satya began his venture capital career at Geocapital Partners, a trans-Atlantic technology venture capital firm. Representative investments from Geocapital include Homestore, StepStone and Geneva Technology. Satya also worked for Monitor Company, the strategy consulting firm founded by Michael Porter, as a strategy consultant in its New York and Tel Aviv offices. Satya is the co-inventor of 14 pending patents related to online advertising. He is proud to serve on the board of KIPP Bay Area Schools, a network of seven public charter schools in under-served communities.
Satya is a Founding Executive Committee Member of FirstGrowth Venture Network (www.FirstGrowthVN.com) a network of venture and angel investors supporting first and second time entrepreneurs building exciting companies in the New York area.
Satya graduated from the University of Pennsylvania with a BS in Finance from the Wharton School and a BA in Psychology from the College of Arts & Sciences.