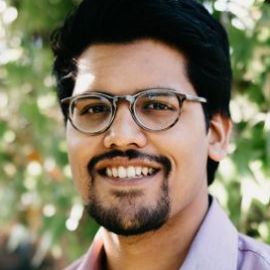 The $12 trillion global construction industry is primed for disruption, analysts note. And Saurabh Ladha's company Doxel, is providing it. Doxel monitors construction sites using autonomous robots, quantifies progress using deep learning-based computer vision, and provides managers with actionable insights to eliminate overruns and costly delays.
The $12 Trillion construction industry accounts for close to 10% of Global GDP. Yet, over 90% of big construction projects experience cost overruns that average 80% of original estimates and schedule delays that average 20 months.
They use artificial intelligence based computer vision to identify problems in real time so that their customers can take proactive steps to keep their projects on schedule and on budget.
Related Speakers View all
---
Soroush Salehian

CEO & Co-founder, Aeva, Inc.

Micah Green

Founder, Maidbot

Zeina Barr

Tech Entrepreneur, Founder; Raise the Barr

Anshul Vikram Pandey

Co-founder & CEO at Accern

Kumesh Aroomoogan

Co-founder & CEO at Accern

Manu Sharma

Co-founder & CEO of Labelbox

Joe Thomas

Co-founder, CEO of Loom

Joseph Fasone

CEO, Pilot

S. Zayd Enam

Founder & CEO, Cresta

Nate Baker

CEO & Co-Founder of Qualia

Ethan Barhydt

Co-founder, CEO of VoiceOps

Daniel Getelman

Co-founder, Remix

George Ramonov

CTO & Founder; Valued

Sabrina Atienza

CEO & Founder, Valued

Vinay Hiremath

Co-founder, Head of Engineering at Loom

Yuan Gao

Former Founder & CTO, Mavrx Inc.; Software Engineeri...

Gregory Falco

Co-founder, NeuroMesh; Postdoctoral Scholar, Stanfor...

Will (Wei) Song

Co-founder, Drive.ai

Joel Pazhayampallil

Co-founder, Drive.ai

Sameep Tandon

Co-founder, Drive.ai
More like Saurabh