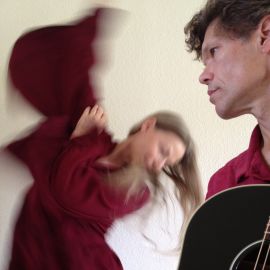 Scott and Johanna Hongell-Darsee
Performances of Medieval and Traditional ballads in novel arrangements, with stories of romance and drama, adventure and mystery
Scott and Johanna's second album The Wandering Ballad received a nomination for best vocal performance by the New Mexico Music Awards. The duo has performed all over the U.S. at festivals, theatres, arts councils, universities, schools, libraries, and live broadcasts including:
Provincetown Playhouse and Scandinavia House, NYC

Outpost Performance Space with AMP Concerts, Albuquerque, NM

Folk Festivals: Traditional Music Society, Los Angeles, CA; and Albuquerque, NM

Scandinavian Festivals: Atlanta, GA; Los Angeles, CA; Thousand Oaks, CA; and Lindsborg, KS

Storytelling Festivals: Los Angeles, CA; Four Corners, NM; Taos, NM; and Albuquerque, NM

Universities: NYU; UNM, ENMU, San Juan College and College of Santa Fe, NM; UA; Coe College, IA

NPR Affiliates, KUNM, KSFR, WFHB

TV 2KASA Morning Show

New Mexico Humanities Council – Inducted as scholars in 2005
Johanna (Finland) began her performing arts career in 1986. She has an education in mime and theater from the Lecoq School in Paris, France as well as in Classical Indian Dance with Gurus Sri Kama Dev, Smt Savithri Jagannatha Rao. And Kalanidhi Narayanan of Chennai, India. The past 20 years she has researched and performed medieval and traditional ballads. Before moving to New Mexico in 2001, she led the company Theater Bava in Malmo, She performed in Scandinavia, Europe, USA and India, including the festivals of Avignon in France, La Batie in Switzerland, Tampere in Finland, Differenta Sensationi in Italy, Theater of Creation in USA, Kobenhavn Sommerscene in Denmark, as well as numerous festivals in Sweden.
She has taught Bharata Natyam as a guest artist at University of New Mexico Department of Theater and Dance.
Scott Darsee is a poet, musician, songwriter and painter who spent 16 years in Europe before moving back to the USA in 2001. Parallel to his artistic work he has also worked as a therapist at Ballet companies such as Dance Theatre of Harlem, London Festival Ballet, The English National Ballet, the Royal Danish Ballet and Hamburg Ballet. He also taught at the Danish State School of Modern Dance and worked with Teater Bava as a sound engineer and painter. Johanna (Finland) has performed at festivals, theaters and universities around the globe. She received her education in France (theater) and India (dance). She has taught as a guest artist in the Theater and Dance Department at University of New Mexico. Scott (USA) composes innovative arrangements and themes on string instruments.
Videos
---
Speech Topics
---
The Wandering Ballad
This musical keynote/concert of Medieval and Traditional Ballads in novel arrangements is both entertaining and informative, with dreamy music that takes you away on a magic journey to far off places and times. The tradition of singing stories is as old as humanity itself, a way to record experiences and history, long before we had access to computers, printing, the written word. We follow stories that have traveled in oral tradition over centuries and continents. Stories that have survived, because they still speak to us today. Our common dreams and most ancient memories.