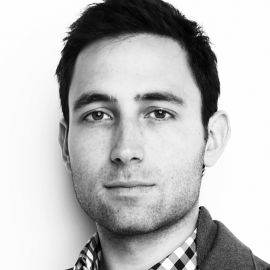 Scott Belsky is Adobe's Vice President of Products-Community and Head of Behance, the leading online platform for creatives to showcase and discover creative work. Scott co-founded Behance in 2006, and served as CEO until Adobe acquired Behance in 2012. Millions of people use Behance to display their portfolios, as well as track and find top talent across the creative industries. Behance also powers portfolio display for AdWeek, School of Visual Arts (SVA), Rhode Island School of Design (RISD), and many other sites and curated galleries around the web —as well as 100,000+ personal websites via Behance's ProSite service.
Top creative companies around the world use Behance to post jobs and find talent. Millions of creative enthusiasts visit Behance sites every month to watch and follow the latest and greatest work by creative professionals across industries.
Over the years, Behance has pursued other projects to help organize and empower the careers of creative people. These include 99U, Behance's think tank and annual conference devoted to execution in the creative world; and a popular online of organizational paper products that help organize creative people and teams.
Scott is also the author of the international bestselling book Making Ideas Happen (Portfolio Imprint, Penguin Books, April, 2010).
Through his work at Behance, Scott has become an advocate for technology and community initiatives that empower creative people and help businesses leverage the creative potential of their people. He has worked with leading media and Fortune 500 companies, including GE and Facebook, and has traveled around the world to share his findings. He has appeared in the Wall Street Journal and BusinessWeek, and has shared Behance's research in segments on ABC News, MSNBC, and with the United States State Department and CIA. Scott has also guest lectured at Cornell University, Harvard University, VCU Brand Center, and UC Berkeley among other institutions. In 2010, Scott was included in Fast Company's "100 Most Creative People in Business" list.
Scott actively advises businesses that cross the intersection of technology and the creative industries and help empower people, among other criteria. He is an investor and advisor in Pinterest, Uber, andWarby Parker, as well as several others in the early stages. He also works closely with Founder Collective as one of their founder partners.
Prior to founding Behance, Scott helped grow the Pine Street Leadership Development Initiative at Goldman, Sachs & Co. Scott was especially focused on organizational improvement and strengthening relationships with clients. Scott serves on the Advisory Board of Cornell University's Entrepreneurship Program, is a member of the International Academy of Digital Arts and Sciences, and is a member of the Board of Trustees for the Smithsonian Cooper-Hewitt National Design Museum. He attended Cornell University as an undergraduate and received his MBA from Harvard Business School. Scott and his wife live in New York City.
Videos
--- Speech Topics
---
Making Ideas Happen
Should you buy a book that will make you uncomfortable? More questions: Why is it so difficult to ship good ideas out the door? Why do committees show up and wreck the purity of your idea? Why do people avoid doing the hard work of actually bringing their work to the market? I'll tell you why: Because it's safe. Ideas that never ship are never criticized. Faceless committees accept the blame for tepid products that were probably better off in the warehouse. And managers in search of a place to hide can best hide behind the unshipped product, the unrealized idea and the system gone wrong.
Related Speakers View all
---
Gary Vaynerchuk

Co-Founder & CEO, VaynerMedia

John Maeda

World-Renowned Artist, Computer Scientist, Designer...

Sheryl Sandberg

COO of Facebook

Alexis Ohanian

Partner at Y Combinator; Co-Founder of reddit, Entre...

Guy Kawasaki

Chief Evangelist of Canva; Former Advisor of Motorol...

Marissa Mayer

Former President & CEO of Yahoo

Sir Richard Branson

Founder of Virgin Group

Dan Ariely

Behavioral Economist, Professor at Duke University, ...

Mark Zuckerberg

Founder & CEO of Facebook, Inc.

Cathy Brooks

Evangelist & Rabblerouser The Everything Project

Tony Fadell

Founder and CEO, Nest

Seth Godin

New York Times Bestselling Author of "Purple Cow", "...

Jason Fried

Co-Founder & CEO of Basecamp

Sir Ken Robinson

Internationally Acclaimed Expert on Creativity and I...

Eric Schmidt

Former Executive Chairman at Alphabet Inc, Former CE...

Daniel Pink

#1 New York Times Bestselling Author, To Sell is Hum...

Max Levchin

CEO, Affirm; Co-Founder of PayPal

Lisa Bodell

Innovation Expert, Founder and CEO of futurethink an...

Gina Bianchini

Founder and CEO of Mightybell; Co-founder and CEO of...

Jason Silva

Storyteller, Futurist, Keynote Speaker
More like Scott