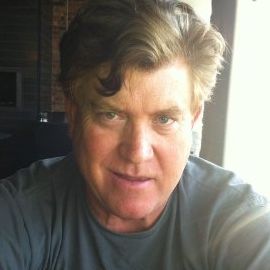 Scott McEwen lives in San Diego, California, where he began writing while practicing law. He grew up in the mountains of Eastern Oregon where he became an Eagle Scout; hiking, fishing, and hunting at every opportunity presented. He obtained his undergraduate degree in Oregon and thereafter studied and worked extensively in London, England. Scott works with and provides support for several military charitable organizations, including the Seal Team Foundation.
Scott's interest in military history, intense patriotism, and experience with long-range hunting rifles, compelled him to accurately record the battlefield experiences of Chris Kyle, the most lethal sniper in United States military history. Chris and Scott started "American Sniper" at Scott's home in San Diego, and from there the story grew to a #1 New York Times Bestseller. "American Sniper" has now sold more than One Million copies and has been translated into over twenty languages. We lost Chis Kyle on February 2, 2013, and he is deeply missed by all. "American Sniper," the movie, starring Bradley Cooper, and directed by Clint Eastwood, was released on December 25, 2014.
Scott's second non-fiction, "Eyes on Target," provides a riveting view of the Navy SEALs as never seen before. It also includes a definitive view of why the Benghazi attack was both predictable and preventable, and what should have been done to save the brave Americans killed during the attack.
Scott started his first Novel series in collaboration with Thomas Koloniar which resulted in the National and Amazon Bestseller "Sniper Elite-One Way Trip." Based on true events, "Sniper Elite" explores a series of real sniper stories that have been fictionalized in the novel.
Already critically acclaimed, "Target America"-Scott's latest book-is the second in the "Sniper Elite" series. The plot in "Target America" explores a not-so-fictional result when you release terrorists from Guantanamo Bay. A story that has received national attention, given the reality we have observed as of late.
The third installment in the "Sniper Elite" series was released in May, 2015 and is called "The Sniper and the Wolf." This novel takes Navy SEAL Gil Shannon and his teammates to places SEALs must operate that are heretofore unexplored in fact or fiction.
The war on terror exists both in fact and fiction, and hard men are called upon everyday to fight its battles. Scott is proud to chronicle this fight.
Videos
---
Speech Topics
---
God, Family, Country-Why American Sniper Was Successful
Books
---
Related Speakers View all
---
J.R. Martinez

Actor, Best-Selling Author, Motivational Speaker, Ad...

Scott O'Grady

Former U.S. Air Force Captain, Fighter Pilot Who Sur...

Noah Galloway

U.S. Army Veteran, Amputee & Finalist on "Dancing Wi...

Ty Carter

United States Army Staff Sergeant & Medal of Honor R...

Story Musgrave, M.D.

Retired NASA Astronaut; Physician & Professor at Art...

Brad Snyder

Two-Time Paralympic Gold Medalist Swimmer & Navy Vet...

Kyle Carpenter

Retired U.S. Marine, Youngest Living Medal of Honor ...

William Wagasy

Special Operations Chief for the U.S. Navy, Former L...

Becky Halstead

First Female Graduate of West Point to Reach General

Mark Geist

Co-Author of "13 Hours", Member of Benghazi Annex Se...

Alek Skarlatos

France Train Hero & Legion of Honour Recipient; "Dan...

Dave Dravecky

Former Professional Baseball Player; Cancer Survivor...

Ed Hiner

Retired U.S. Navy SEAL, Best-Selling Author & Leader...

Melissa Stockwell

First Lieutenant (Retired) & Three-Time Paratriathlo...

Tom Voss

U.S. Army Combat Veteran, Mental Health & Holistic H...

Rob Waldo Waldman

Decorated Fighter Pilot; Power of Relationships & Tr...

Daniel Rodriguez

Military Veteran, Purple Heart & Bronze Star Recipie...

Shoshana Johnson

First African American Woman POW in U.S. War History

Rachel Washburn

Army Intelligence Officer with a Special Ops Combat ...

Brian Fleming

Combat-Wounded Veteran, Resilience & Leadership Speaker
More like Scott