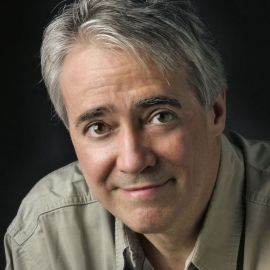 From Manhattan's Ground Zero to the back streets of Sarajevo, Chicago, and Kabul, Scott Simon brings a well-traveled perspective to his role as Host of National Public Radio's Weekend Edition with Scott Simon. The program, which Jeff Yorke of The Washington Post has called, "the most literate, witty, moving, and just plain interesting news show on any dial," observed its fourteenth anniversary in November of 1999.
Simon opened the network's Chicago Bureau in 1980. In 1982, he became the first NPR correspondent to open a bureau in a war zone, when he opened the network's San Salvador office. He had also reported from bureaus in New York, London, Jerusalem, and Calcutta before creating Weekend Edition in 1985.
He has reported from all fifty states and scores of foreign countries. He had covered ten wars, from El Salvador to Afghanistan, and has won every major award in broadcasting, including the Peabody, the Emmy, the Columbia-Dupont, the Ohio State Award, the Robert F. Kennedy Journalism Award, and the Sidney Hillman Award. In 1987, Simon received the Presidential End Hunger Award for his coverage of the Ethiopian civil war and famine, and in 1990 he received a special citation from the Peabody Awards for his weekly essays, which were cited as "consistently thoughtful, graceful, and challenging." In the summer of 2001, Simon received the Barry M. Goldwater Award from the Human Rights Campaign.
Simon was one of the first co-anchors of Weekend Today on NBC television. Currently, he hosts the quarterly PBS series, State of Mind, and the public television series, Life on the Internet and Voices of Vision. His 1982 PBS special, The Paterson Project, won a national Emmy, and over the years Simon has hosted many PBS specials and series, including the award-winning Affluenza, and a two-hour special from the Rio earth summit meeting. He has co-hosted the Columbia-Dupont and Peabody Awards, and co-anchored PBS's Millennium 2000 coverage in concert with the BBC. He is a frequent guest and interviewer on NOW with Bill Moyers.
In 1988, Simon became familiar to television viewers in Great Britain as host of the continuing BBC series, Eyewitness, and a special on the White House press corps aired domestically on the Discovery Channel.
Simon has contributed articles to The New York Times, The Los Angeles Times, The New York Times Book Review, The Wall Street Journal and Gourmet among other publications. He has received numerous honorary degrees. In the spring of 2000, Hyperion published his personal memoir, Home and Away. Sports Illustrated called the book, which was at the top of The Los Angeles Times Non-Fiction Bestseller List and several other book lists, "extraordinary, uniformly superb, a memoir of such breadth and reach that it compared favorably with Fredrick Exley's A Fan's Notes.
Following the attacks of September 11, 2001, Simon's remarks to the National Council of Churches and his Wall Street Journal essay supporting the war on terrorism have been widely quoted and excerpted all over the world, in publications as diverse as The Advocate, Soldier of Fortune, and England's Spectator. He then flew to Afghanistan to cover the war.
His new book, on Jackie Robinson's arrival in major league baseball, appeared in September of 2002 as part of Wiley's prestigious Turning Points series.
Topics
• The War on Terrorism from the Frontlines
• How September 11 Reattached New York to the United States and Vice-Vera
• Notes of a Native Son of Chicago
• The Legacy of the Holocaust Today
• Fighting Anti-Gay Bigotry
Speech Topics
---
Leaping from Journalism into Fiction: Making it Up is Hard
There's an old reporter's joke: it would be so much easier if we could make it up." But, after a rich reporting career, Scott Simon decided to write novels—and found that making things up is actually harder. This speech is about the balance between experience and imagination, and using what you (think you) know to create something new.
Covering War and Peace, Sports and Celebs
Scott Simon provides an anecdotal explanation of how going from events that are profound and dangerous, to those that are frivolous, actually refreshes your perspective. In addition, he discusses how such experiences remind you of what's really important for survival.
What's the News when Every Person is His or Her Own Jimmy Olsen and Perry White?
What constitutes news in this new media landscape? Simon posses this question to listeners and shares the concept of ideas that rush in as quickly and indiscriminately as a busted water main, and the fact that nobody has to meet an idea that they don't like. This speech is a plea to remember that real journalism challenges an audience, not just rewards their biases.
War is Hell. And Sometimes the Food is Delicious
Derived from Scott Simon's article "Conflict Cuisine," audiences will learn about true hospitality and graciousness from people in hellish places. Pizza in Kosovo, pasta in a refugee camp, and faux cheese during the siege of Sarajevo. As the winner of the Beard Award for Food Writing, Simon shares that sometimes, eating well is the best revenge.
The War on Terrorism from the Frontlines
Covering War Torn Countries
How September 11 Reattached New York to the United States and Vice-Versa
Notes of a Native Son of Chicago
Fighting Anti-Gay Bigotry
News
---
Scott Simon : NPR
Scott Simon is a Peabody Award-winning correspondent and host of NPR's Weekend Edition Saturday.
Related Speakers View all
---
John King

CNN Chief National Correspondent & Host of "Inside P...

Diane Sawyer

Anchor, ABC World News

Dan Abrams

Chief Legal Affairs Anchor at ABC News & Founder of ...

Planet Money

NPR's Multimedia Team on the Global Economy

Calvin Trillin

Author, Columnist, Humorist & Political Satirist

Ben Stein

Political Economist, Commentator, Author & Actor

Dan Rather

Iconic Journalist & Former News Anchor for the CBS E...

Peter Lance

Award-Winning Investigative Reporter

Anderson Cooper

Journalist, TV Personality, Anchor of CNN's "Anderso...

Alexandra Cousteau

Environmental Activist, Storyteller & Ocean Advocate

Hoda Kotb

Broadcast Journalist, Television Personality, Author...

Ted Turner

Media Mogul & Philanthropist

Forrest Sawyer

Award-Winning Broadcast Journalist

Jim Hightower

Political Commentator / Progressive Activist / Humorist

Wyclef Jean

Grammy Award Winning Musician, Formerly in Band "The...

Daniel Altman

Sports Analytics & Strategy Expert

Asra Nomani

Journalist & Author, Women's Rights Activist

Parag Khanna

Leading Geo-Strategist & Author

Amy Goodman

Host & Executive Producer, Democracy Now!

Richard Dreyfuss

Academy Award-Winning Actor
More like Scott