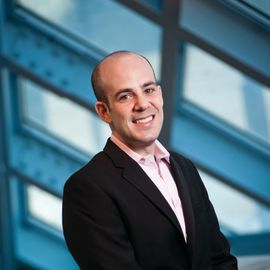 Scott Steinberg
CEO of TechSavvy Global, Strategic Innovation Consultant, Best-Selling Author & Host of "Next Up"
Hailed as The Master of Innovation by Fortune magazine, and World's Leading Business Strategist, award-winning strategic consultant, trends expert, and professional speaker Scott Steinberg is a bestselling expert on leadership, change + innovation. One of America's top futurists (per the BBC); the author of Make Change Work For You and Millennial Marketing; and among today's top business strategy + leadership training providers, the Fortune 500 calls him a "defining figure in business + technology" and "top trendsetter to follow."
A strategic adviser to C-level leaders and four-star generals, firms like IBM, PwC, and the US Dept. of Defense regularly seek his insight. As the CEO of BIZDEV: The International Association for Business Development and Strategic Partnerships, and management consulting + market research firm FutureProof Strategies, Steinberg helps partners understand emerging trends – and drive growth around them.
One of the world's 150 most influential keynote speakers + futurists, and today's #1 generations expert and technology expert (per Google), Steinberg offers breakouts, workshops, and speeches at meetings/events, and has consulted on dozens of industry-leading solutions.
A noted content strategy, social media + communications expert, his eye for business analysis has also led to work as an insider for 600+ media outlets from CNN to The Today Show. From Dell to MTV, he's worked with many top brands to drive success. An expert witness + board member who advises C-level leaders, attorneys + investors, he also offers sales and media training, and hosts many executive summits.
Steinberg's most recent book "FAST >> FORWARD: How to Turbo-Charge Business, Sales, and Career Growth" releases October 5, 2020. The book reveals how to fast-track success, swiftly achieve all your goals, and get things done in no time flat. It is a guide to practical, everyday innovation provides tools that can help you more rapidly solve any problem and quickly accomplish any task.
Videos
---
Speech Topics
---
Leading with Innovation: How to Future-Proof Yourself, Fearlessly Innovate, and Succeed Despite Disruption
Even the most successful organizations must continually reinvent their products, services and solutions to remain market leaders in an age of growing change, connectivity and globalization. In this eye-opening presentation, audiences will learn how to thrive in the new operating reality, create competitive advantage, and successfully leverage new leadership strategies to adapt to changing times. From more powerful ways to unleash innovation to solutions for better capitalizing on cutting-edge advancements, discover how you and your organization can flourish in tomorrow's world - and effectively apply its most crucial success strategies and skills in context.
Change Management: Creating a Culture of Innovation
In today's working world, competitive landscapes and best practices shift faster than ever – as do market and workforce trends. But no matter how much disruption you're dealing with, you can empower both individuals and teams to more effectively embrace paradigm shifts, improve organizational learning, and boost productivity with these proven new approaches to leadership, technology and time management. Bestselling business author and consultant Scott Steinberg explains how the market's most innovative firms are embracing change management, and best practices and leadership pillars you can implement to breed a culture in which innovation thrives.
Becoming Essential – Building and Maintaining Competitive Advantage
Change is the only constant modern professionals and organizations can rely on today. In this eye-opening presentation, bestselling business analyst and author Scott Steinberg explains how to avoid becoming a commodity – or worse, obsolete – by preparing you to identify and greet the challenges and opportunities which progress presents. From more powerful ways to capitalize on business intelligence and grow brand equity to developing cutting-edge products, services and customer experiences, he demonstrates how you can create and maintain a competitive edge – and effectively apply it in context.
Succeeding in the New Era of Smart
Technology has become smarter, more a?ordable and easier to implement than ever, helping put more powerful tools at business ?ngertips than at any point in history:But how do you maintain competitive advantage when competitors have access to the same tools as well?Discover how market innovators continue to leverage technology and new business advancements to stay ahead of the curve, and ahead of the competition, in this dynamic and engaging presentation from
one of the world's leading business strategists. Attendees will learn how the formula for surviving and thriving in dynamic and more demanding markets isn't as di?cult as it seems - and discover what it takes to continually keep themselves at the head of the pack.
Defending Against Disruption: Maintaining Cyber Security in the Age of Digital Transformation
In today's connected and always online high-tech world, where organizations must change and adapt to market shifts at record speed, staying alert to cyber threats is essential. That's because digital transformation is on the rise - and so is cybercrime, today's fastest-growing form of criminal activity, which is skyrocketing at an alarming rate. These concerns will only become more pronounced for individuals and organizations alike as more business operations shift to mobile, cloud, and Internet-based solutions going forward. Luckily, as bestselling futurist and cyber security expert Scott Steinberg reveals in this eye opening presentation, a few simple shifts in strategy and thinking are all it takes to keep your organization and partners safer going forward. Here, you'll discover best practices for keeping your organization and personal information safe in an always-on and connected online world, and how to implement more effective security controls (and a culture that champions safety and privacy) throughout your enterprise.
Future Trends: What's Next for Your Industry – and How Can You Stay Ahead of It?
In a series of energetic and inspiring presentations, one of today's top technology futurists and business strategists shows industry leaders in every field – e.g. finance, healthcare, insurance, retail, etc. – which trends promise to transform the sector(s) in which they operate, as well as how to stay competitive and boost productivity and performance by leveraging cutting-edge tools and strategies for staying ahead of the curve. Through market research, professional development techniques and practical, real-world insights, attendees will learn to recognize and act upon the benefits and opportunities that emerging trends and technologies create. Built to empower modern professionals, a range of dynamic discussions and workshops shows how to tap into the power of change and high-tech innovation to build a lasting foundation for professional advancement and growth.
Related Speakers View all
---
Erik Qualman

Top Digital Transformation Expert, Futurist & Bestse...

Josh Linkner

Five-Time Tech entrepreneur, Hyper-Growth CEO, New Y...

R "Ray" Wang

Founder, Chairman & Principal Analyst at Constellati...

Jack Shaw

Corporate Financial Executive, Software Company Exec...

Alex Salkever

Futurist, Author of "The Driver in the Driverless Ca...

Brian Solis

Digital Analyst, Futurist & Author of "What's the Fu...

Mike Walsh

CEO of Tomorrow; Global Nomad & Futurist; Bestsellin...

Terry Jones

Digital Disruptor, Author & Venture Capitalist

Robert Tucker

Business Futurist, Innovation Expert & Best-Selling ...

Jim Carroll

One of the World's Leading Global Futurists, Trends ...

Jack Uldrich

Global Futurist & Author

Bill Capodagli

Author of "Innovate the Pixar Way: Business Lessons ...

Mitch Lowe

Co-founding Executive of Netflix & President of RedBox

Daniel Burrus

Technology Futurist, Business Strategist & Hall of F...

John Rossman

Former Amazon Executive, Author & Expert on Digital ...

Afdhel Aziz

Leading Expert on Brand Purpose & Marketing Innovati...

Michael Rogers

MSNBC's 'The Practical Futurist' & Technology Expert

Pablos Holman

Technology Futurist, Inventor, World-Renowned Hacker...

Scott Klososky

Enterprise Social Technology Expert, Start-Up Pionee...

Dr. Michio Kaku

World-Renowned Futurist & Theoretical Physicist
More like Scott