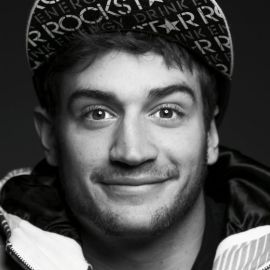 Scotty Lago
American Snowboarder
Despite some notable snowboarding accomplishments (including a World Cup halfpipe win in Nov. 2006). Lago came into the 2009-10 Olympic qualifying process as something of a long shot to make the Vancouver team. However, Lago was able to secure his spot in Vancouver thanks to a pair of runner-up finishes behind reigning Olympic gold medalist Shaun White at the final two U.S. Grand Prix events in Park City on Jan. 22-23.
Lago is a member of snowboarding's FRENDS crew, a group of seven snowboarders (Danny Davis, Kevin Pearce, Jack Mitrani, Luke Mitrani, Keir Dillon, Mason Aguirre and Lago) who eschew individual acclaim for the traditional ethos of snowboarding. In this instance, "friends" is deliberately spelled without an "i" because the snowboarders say that there is no individual in the group. Lago has said he will dedicate his performance in Vancouver to Davis and Pearce, who will both miss the Games due to serious injuries. Davis suffered a spinal fracture in a four-wheeling accident in January, and Pearce suffered a severe head injury during a training accident on New Year's Eve. "I feel pretty bad about the situation," Lago told the Associated Press after qualifying for the U.S. team in January.
Lago hails from Seabrook, N.H., a town of approximately 8,500 people located on the northern border of Massachusetts and bordered on the east by the Atlantic Ocean.