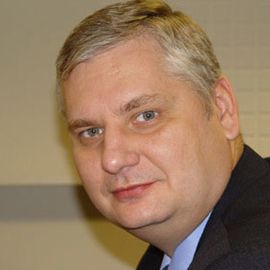 Sergey Markedonov is a visiting fellow in the CSIS Russia and Eurasia Program. He is an expert on the Caucasus, as well as Black Sea, regional security, nationalism, interethnic conflicts and de-facto states in the post-Soviet area. His publications include several books and reports, 50 academic articles, and more than 400 press pieces. Recently published books and reports include The Turbulent Eurasia (Academia, 2010), The Big Caucasus: Consequences of the "Five Day War," New Challenges and Prospects (International Centre for Black Sea Studies, 2009), and The Ethno-national and Religious Factors in Social-political Life of the Caucasus Region (Moscow State University, 2005).
Markedonov graduated from Rostov-on-Don State University in 1995. He earned his doctoral degree in history at Rostov-on-Don State Pedagogical University in 1999. From 1996 to 1999, he was a lecturer in the History Department of Rostov-on-Don State Pedagogical University. From 1998 to 2001, he served as senior fellow at the Governor's Press-Service in the Rostov Regional Administration. From 2001 to 2010, he worked as head of the Interethnic Relations Group and deputy director at the Institute for Political and Military Analysis in Moscow. From 2006 to 2010, he also held teaching positions at the Russian State University for the Humanities, the Moscow State University, and the Diplomatic Academy.
Videos
---
Speech Topics
---
RUSSIA AND EURASIA PROGRAM
Related Speakers View all
---
David Santoro

Senior Fellow for Nonproliferation and Disarmament, ...

Sadika Hameed

Fellow, Program on Crisis, Conflict, and Cooperation

Sarah O. Ladislaw

Co-Director and Senior Fellow, Energy and National S...

Gerald Hyman

Senior Adviser and President of Hills Program on Gov...

Nathaniel Ahrens

Deputy Director and Fellow, Hills Program on Governance

Edward C. Chow

Senior Fellow, Energy and National Security Program

Margaret Lane Taylor

Council on Foreign Relations Fellow

Ralph A. Cossa

CSIS Trustee

Stephanie Sanok

Deputy Director and Senior Fellow, International Sec...

J. Christopher Daniel

Senior Associate (Consultant), Global Health Policy ...

Stephen Flanagan

Henry A. Kissinger Chair in Diplomacy and National S...

Matthew P. Goodman

William E. Simon Chair in Political Economy

Yu Ye

Visiting Fellow, Freeman Chair in China Studies

Nicholas Szechenyi

Deputy Director and Senior Fellow, Office of the Jap...

Rick "Ozzie" Nelson

Director, Homeland Security and Counterterrorism Pro...

Michael Messina

Director of Development, Pacific Forum CSIS

Ho-Jin Lee

Visiting Fellow, Korea Chair

Murray Hiebert

Deputy Director and Senior Fellow, Chair for Southea...

Brad Glosserman

Executive Director, Pacific Forum CSIS

Kristin Fisher-Goodwin

Military Fellow, Project on Nuclear Issues, Internat...
More like Sergey