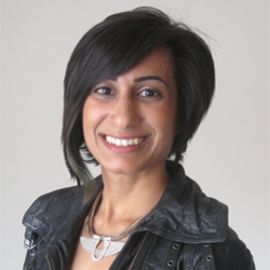 Shaherose Charania
Co-Founder & CEO of Women 2.0, Digital Media Pioneer & One of Fast Company's "Most Powerful Women in Technology"
Shaherose Charania is the co-founder and CEO of Women 2.0 and is a leading voice for female innovators in technology, advertising and marketing. Women 2.0 is an off-line, community-driven media company that connects female innovators in technology. The company offers sharable research-driven content and opportunities to network with founders, investors, and up-and-coming entrepreneurs. She is also a product manager, designer and marketer and is currently working on designs that are specifically created for women. Shaherose has developed various mobile products that have reached millions of users, and she also has consulted other companies, such as Ribbit (acquired by British Telecom), on their product development and marketing.
Women 2.0 started as a small idea—but its impact has extended into a movement that is changing the way women connect with technology. Females are the primary purchasers of computers, cell phones, and other big-ticket, high-tech items; However, developers of that technology are overwhelmingly men. This inherent flaw is a fact that Shaherose aims to change by educating others about the statistics and by building a network filled with leaders who desire progression, too.
The Women 2.0 movement began as a passion project, starting with simple networking events. Over the course of five years, it grew unexpectedly and rapidly, and the Women 2.0 team realized it could be a fulltime business endeavor. Now, Women 2.0 has expanded far and wide and is quickly growing with hundreds of thousands of participants around the world. The peer-to-peer opportunities it provides has helped thousands of emerging female entrepreneurs connect with leading women in a range of tech fields. Women 2.0 is redefining what it means to be a media company by creating a powerful community that has never before existed.
Shaherose has been named by Fast Company as one of the "Most Powerful Women in Technology." Laptop Magazine named her to a list of the "Most Important Women in Mobile." She has been interviewed by Bloomberg, Forbes, TechCrunch, USA Today, and the Wall Street Journal, among others. In October 2013, Shaherose was recommended by Vivek Wadhwa as one of the 15 women who should be on Twitter's board.
Before founding Women 2.0, in 2011 Shaherose created Founder Labs, the first pre-team, pre-idea incubator for new mobile startups. Founder Labs creates impact and promotes diversity at the earliest levels of a startup idea by building natural, organic teams and seeking talent with the greatest potential. Founder Labs helped establish new founding teams that were later featured in YCombinator, TechStars, 500Startups and other coveted technology incubators.
Shaherose's career began in Silicon Valley at TiE Global overseeing governance and operations of 40+ entrepreneurship centers. She received a Bachelor of Arts in Business Administration from The University of Western Ontario's Richard Ivey School of Business and completed an international exchange program at ESADE in Barcelona, Spain.
Videos
---