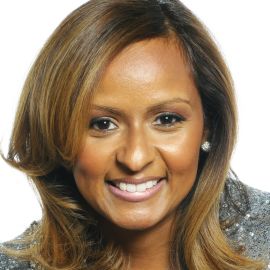 Shanti Das
Entertainment Executive, Entrepreneur, Mentor, Author, Philanthropist and Founder of the Silence The Shame Foundation
Shanti is the Founder/CEO of Press Reset Entertainment, an Atlanta-based firm launched in 2009 that serves as an entertainment concierge service providing independent marketing & strategy for music acts, talent booking for private & corporate events, celebrity procurement, brand influencer marketing and special event assistance. This year marks Shanti's 27-year anniversary in the entertainment business. Her music industry career (intern to Executive Vice President) includes positions at Capitol Records, LaFace Records, Columbia Records, Sony Urban Music and Universal Motown where she worked closely with some of music's top talent like Outkast, Usher, Prince, TLC, Toni Braxton, Erykah Badu, and more.
In recent years, she combined her passion and talent for empowerment, community and culture, rebranding herself as the Hip-Hop Professional® – someone that is skilled in a particular profession, performs at the highest level, gives back to the community and has a love for hip-hop culture. Das is dedicated to becoming a global thought leader and inspiring the professional development of young adults. She serves as a role model and mentor to students across the country via her successful College Chat Room™ Tour. During the session at the schools, Shanti teaches students basic business and leadership traits, professional development and shares her journey of going from Intern to Executive Vice President to Entrepreneur. The tour has visited many colleges/universities including: Fort Hays State University, UMass Boston, Dillard, Syracuse, Wayne County Community, Rutgers at Newark, Harris Stowe, Lane, Hampton, Cheyney, Clark Atlanta, and Kennesaw State.
An advocate for many social issues, Shanti started several successful initiatives and events including No Reservations Needed (an annual food drive/dinner for the Atlanta Mission homeless shelter in Atlanta), Samples That Serve (collection of toiletries for homeless mothers and children to benefit the annual United Way Shoebox Party), Backpack Blessings (collection of back to school supplies for local elementary schools with Walmart), Day of Pampering (Hair, Make-up pampering for moms at the Genesis Shelter), Toys of Joy (Holiday Toy drive benefitting local hospital) Turn The Page (book drive and reading program for local elementary and middle schools). As a result of Shanti's community work for the past 8 years, she decided to establish her very own nonprofit, The Hip-Hop Professional Foundation (www.HHPF.co).
The mission of the foundation is: To empower and enrich the lives of those in underserved communities around mental health, youth empowerment and poverty.
The mental health initiative is called Silence the Shame (www.silencetheshame.com). Shanti has suffered from depression over the years and has also experienced love ones affected with mental health disorders. With Silence the Shame, she hopes to peel back the layers of shame and stigma as it relates to mental health. There are millions of people suffering and they are afraid to speak on it. It is also a lot that needs to happen in the form of educating people about treatment, support and care.
Shanti has also participated in leadership and music panels/events across the country including: Essence Music Festival Empower U, Essence magazine's 'Road to EssenceFest', Career Connections for National Urban League at EssenceFest, Entrepreneurship panel on the Empowerment stage for National Urban League conference, UNCF Empower Me tour, National Black MBA HBCU tour, Macy's American Icons, Steve Harvey Mentoring camp (women's session), Walmart's old school hip-hop panel at Essence festival, music panels at SXSW music conference, A3C Hip Hop conference, Tommy Dortch's Legacy Leadership HBCU panel and more.
She is author of The Hip‐Hop Professional 2.0: A Woman's Guide to Climbing the Ladder of Success in the Entertainment Business. Chronicling Das' 20‐years plus stint in the music business, The Hip‐Hop Professional 2.0 offers career advice and words of wisdom to show both aspiring and established industry professionals how to make it in the music world – on their own terms. Shanti also shares priceless gems on professionalism in the workplace, equal compensation, perseverance, and more. Referencing various hip‐hop song titles and lyrics throughout the book, it also sets out to encourage women to uplift and support each other in the industry, something that often times, doesn't happen. As Shanti likes to say, "I shine, you shine."
After the successful launch of The Hip-Hop Professional 2.0, Shanti decided to launch a series of business pocket guides. The first release, The 1-2-3s of Networking (hard copy available and also as an ebook for Kindle and iTunes), is a guide of 30 invaluable networking tips to expand your professional contact base. The guide reminds readers at every stage in their career, networking can lead to new opportunities. It offers invaluable tips to push past procrastination and encourages building contacts immediately. Shanti is a firm believer "that your net-worth is more valuable based upon your net-work!"
Speech Topics
---
Mental health awareness, business and leadership traits, professional development
Related Speakers View all
---
Meredith Walker

Co-Founder & Executive Director of Amy Poehler's Sma...

Amanda Lindhout

Executive Director of The Global Enrichment Foundati...

Jennifer Garner

Award-Winning Actress, Entrepreneur & Advocate

Deneka Thomas

Program Manager of Girl Be Heard Trinidad & Tobago; ...

Millie McGhee-Morris

Multi-Entrepreneur, Successful Publisher, Author, Me...

Jameela Jamil

Actress, Outspoken Feminist & Body Positivity Advocate

Ola Ray

Model, Actress, Author, Singer & Dancer

Jenna Nicholas

CEO of Impact Experience

Madison Star & Mallory Iyana

Kidpreneurs

Jodi Bondi Norgaard

Founder of Dream Big Toy Company & Creator of Go! Go...

Kathleen Griffith

Founder & CEO of Grayce & Co

Rachel Hollis

#1 New York Times Best-Selling Author of "Girl, Wash...

Sara Minkara

Founder & CEO of Empowerment Through Integration

Rahama Wright

Women's Advocate, Social Entrepreneur, Founder & CEO...

Liz Dozier

Founder & CEO of Youth Equity Platform Chicago Beyon...

Allyson Kapin

Founder of Women Who Tech; Founder of web agency Rad...

Jamira Burley

Head of Youth Engagement & Skills for the Global Bus...

Wendy Osefo, PhD

Professor | Media Personality | Political Commentato...

Azie Tesfai

Founder of Fortuned Culture, philanthropist and actr...

Michele Ruiz

Bi-lingual Entrepreneur and Public Speaker Whose Pas...
More like Shanti