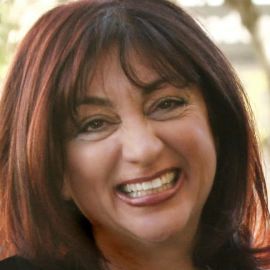 Shari Karney is a civil rights attorney, activists, survivor, speaker, author and on-air legal pundit. The captivating NBC movie "Shattered Trust: The Shari Karney Story" starring Melissa Gilbert, which Karney Executive Produced, followed Karney's story involving sexual abuse as a child to championing the rights of women and children as an attorney that changed the law for survivors of sexual abuse.
Karney was also lead attorney and talent, on the syndicated court show, "Power of Attorney", where renown attorneys (Gloria Allred, Marcia Clark, Chris Darden, F. Lee Bailey, Lisa Bloom) tried real cases against each other with Judge Andrew Napolitano and Judge Lynn Toller, presiding.
A widely respected legal expert, analyst and commentator on breaking sexual assault and domestic violence news cases, she has appeared on Oprah, ABC PrimeTime, CNN, MSNBC, ABC, CBS, NBC, HLN, TruTV, CI, Discovery Channel, Lifetime, Fox Television, Inside Edition, CBC with Mark Kelley(Canada), and hundreds of other television and radio news programs. She has written and given on air commentary about the Brock Turner campus sexual assault case, worked on legislation with Kamilah Willingham (featured in the documentary about campus sexual assualt "The Hunting Ground,") as well as given expert commentary and opinion on the Jeffrey Epstein, Harvey Weinstein, Bill Cosby, R. Kelly, Michael Jackson, and Kevin Spacey sexual assault cases.
Shari is a graduate of Loyola Law School, and a summa cum laude graduate of U.C.L.A., and a member of America's most prestigious honor society, Phi Beta Kappa. Karney was an adjunct law professor at Loyola Law School creating and teaching the first in the nation, Child Sexual Abuse Litigation Course for law students.
Recently Shari Karney spoke at the United Nations in New York, on Worldwide Child Sexual Abuse and Violence Against Women. She was a panellist for "Victors…A Song to the Lions" on behalf of Roar as One, a non-profit whose mission is Justice for Survivors. August 28, 2020 Shari consulted with the California Women's Law Center on the "Cosby Bill" to eliminate the criminal statute of limitations for victims of rape, sexual assault and continuous child sexual abuse. Governor Jerry Brown signed the legislation into law (SB 813) on September 28th, 2016.   Currently, Shari Karney is working on historic landmark legislation with Congress for Justice for Survivors with the "Karney Uniform Statute of Limitations Act" to eliminate the statute of limitations for child sexual abuse nationwide, in all 50 states, in the District of Columbia, and on Native American Tribal Lands.Inspired by her deep belief that the law can bring justice, Shari founded ROAR as ONE, a non-profit to help sexual assault, sexual abuse and domestic violence victims get justice. For too many victims seeking justice remains an unreachable goal.
Videos
---
Related Speakers View all
---
Rose McGowan

Writer, Actor, Director, Entrepreneur and Whistle-Bl...

Gabrielle Union

Actress, Voice Artist, Activist, Author

Carrie A. Goldberg

Attorney & Founder of Victims' Rights Law Firm C.A. ...

Aly Raisman

Olympic Gymnast, Gold Medalist, Captain of the "Fier...

Mariska Hargitay

Emmy Award-winning Actress & Philanthropist; Known f...

Jane Fonda

Actress, Feminist, Author, Political Activist, Forme...

Rebecca Bender

Sex Trafficking Survivor, Advocate & Author

Julie K. Brown

Award-Winning Investigative Reporter at the Miami He...

Donna Hylton

Activist, Author, Advocate

Jessika Rovell

Attorney, Naval Intelligence Officer, and Sexual Vio...

Amanda Lindhout

Executive Director of The Global Enrichment Foundati...

Jordyn Wieber

Gold Medal-Winning Artistic Gymnast for the U.S. Wom...

Kesha

Pop Singer Known For "Tik Tok," "Your Love Is My Dru...

Jennifer Storm

Award Winning Victim's Rights Expert, Advocate & Bes...

Judge Greg Mathis

Civil Rights Activist, Television Personality

Ellen DeGeneres

Award-Winning Comedian, TV Host, Actress & LGBTQ Act...

Amanda Beard

Olympic Gold Medalist, Co-Founder of Beard Swim Co. ...

Stacy Galbraith

Detective & Advocate, Inspiration for Netflix's "Unb...

Rabiaa El Garani

Human Rights Protector

Jeannie Suk Gersen

John H. Watson, Jr. Professor of Law at Harvard Law ...
More like Shari