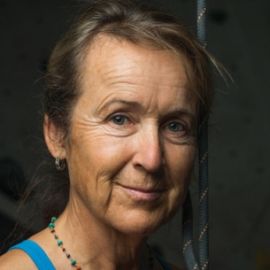 Sharon Wood has never considered herself a hero but, in 1986, she became the first woman in North America to climb Mount Everest – the world's highest peak. It was an astonishing personal and team accomplishment under conditions of extreme physical and mental duress. It was an example of ordinary people achieving extraordinary results.
Wood's climb of Everest was only one facet of more than 20 years' experience as a professional and elite mountaineer, with numerous ascents of summits over 20,000 feet to her credit. Since climbing Mount Everest, Wood has addressed hundreds of groups worldwide as a keynote speaker. Her presentation is a compelling true story of beating the odds. She speaks about meeting that challenge, and about the associated struggles and gains that closely parallel those of most striving individuals and organizations. Through her personal disclosure of confronting and overcoming challenges and fears, she succeeds in using the imposing example of climbing the highest mountain in the world to provide her audiences with a tangible means of grasping the essence of her story – living and working closer to our potential.
Wood's dedication to the pursuit of our potential was also expressed in her service as founder and chairperson of a fully accredited, non-denominational private school in her hometown of Canmore, Alberta, Canada. The school's objective is to foster confidence and lifelong learning skills, while inspiring development of the unique strengths possessed by every child. Today, Mountain Gate Community School has expanded and continues to offer an alternative education option to the community.
Through powerful anecdotes and vivid analogies, Wood conveys the critical element of team success. For anyone wanting to be more effective in life, her story is an inspiration.
Videos
---
Speech Topics
---
Everest: Insights from a higher ground
Sharon Wood teaches, entertains and inspires with her personal story about reaching the top of Mount Everest. Stunning still images and video illustrate the journey of a small team who shared a bold vision to climb the highest mountain in the world by a more difficult route and with fewer physical and financial resources.
Her story powerfully demonstrates how exemplary teamwork and leadership can render the impossible possible. Sharon effectively conveys both the individual and the team perspective by stressing the importance of honoring her own passion and dreams while fulfilling a role as a member of a team - a team committed to a shared vision.
Sharon's style is personal and moving. She uses powerful anecdotes and vivid analogies to convey the elements that parallel the challenges of striving individuals and organizations. Sharon's authentic, humorous and honest approach evokes listeners to consider the value of their own resources and opportunities.
"To the Summit and Beyond" is more than an adventure story - it is a timeless, universal story about the triumph of the human spirit over adversity. For anyone wanting to be more effective in his or her work or life, Sharon's story is a powerful inspiration.
Each presentation is tailored to the focus and timelines of the audience. Based on the objectives of the client the following themes can be incorporated:
The power of passion and curiosity
Fostering a shared vision
Accomplishing more with less
Thriving through change and adversity
Integrating personal aspirations with team power
Looking outside the box for creative solutions
Maintaining the momentum and staying the course
Believing "better is possible"
Firing on all cylinders
Expanding possibilities
Maximizing courage - diminishing fear
Leading from where you are - personal leadership
Embracing the value of diversity
Being and living our potential
Performing versus conforming
Recognizing, giving and accepting support
Related Speakers View all
---
Robyn Benincasa

World Champion Adventure Racer & Best-Selling Author

Neal Petersen

History-Making Extreme Adventurer, Award-Winning Aut...

Bear Grylls

Adventurer, Author & Host of "Man Vs. Wild"

John Amatt

Mountaineer, Founder & President of One Step Beyond ...

David Breashears

Everest Adventurer, Filmmaker & Senior Lecturer at M...

Vince Poscente

Former Olympic Speed Skier, Best-Selling Author, Lea...

JP Pawliw-Fry

Co-Founder of the Institute for Health and Human Pot...

Robert Kriegel

Expert in Sports & Performance Psychology

Howard Putnam

Former CEO of Southwest Airlines

Dan Clark

Master Motivator, CEO, New York Times Bestseller & M...

Ann Bancroft

Pioneering Polar Explorer; Educator; Activist for Wo...

Afterburner

US Fighter Pilots & Team-Building Experts

Lyn St. James

Racecar Driver & Activist

Peter Hillary

Adventurer / Entrepreneur / Author

Amanda Gore

CEO of The Joy Project; Author & Psychologist; Emoti...

Rocky Bleier

Former NFL Football Player, Wounded Vietnam Veteran ...

Stacy Allison

Businesswoman, Adventurer, Author & Motivational Spe...

Mark Sanborn

Leadership, Teamwork & Performance Expert; New York ...

Robert Ballard

Renowned Ocean Explorer & Scientist

Vince Papale

Former NFL Player & Inspiration for the Movie "Invin...
More like Sharon