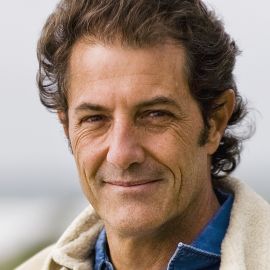 Shaun Tomson is a leadership and positive engagement expert and has worked with some of the world's best-known organizations – GM, Cisco, PWC, Google, Disney and Gap – to empower purpose and re-activate their teams. Tomson offers a unique perspective on focusing personal will to improve performance, and workshops to help team members deepen relationships and transform individually and collectively. Tomson is a true entrepreneur having created, managed and sold two international multi-million-dollar market-leading clothing brands – Instinct in the 80's and Solitude in the 90's which he founded with his wife Carla. He is a former World Surfing Champion and has been described as one of the greatest and most influential surfers of all time - he is an inductee in the US, Jewish and South African Sports Halls of Fame.
He is the author of the best sellers Surfer's Code and the recent #1 Amazon book The Code -The Power of "I Will". He produced the award-winning documentary film "Bustin' Down the Door," a dramatic story of how a group of young Australians and South Africans created professional surfing and built a multi-billion-dollar industry. Tomson is a Business Finance graduate from the University of Natal in South Africa and holds a Master of Science in Leadership from Northeastern University. He has served on the board of Surfrider Foundation and Santa Barbara Boys & Girls Club. He is a former Vice President at Strathspey Crown, a private equity company focused on health care, has consulted for consumer corporations Brooks Shoes and Deckers, and has held executive positions at lifestyle brands Patagonia and O'Neill.
Speech Topics
---
Catch the Next Wave: Doing Good is Good for Business
Environmentalist of the year award winner, entrepreneur, author, board member of Surfrider Foundation, the world's largest ocean environmental group discusses the new 21st business paradigm – Doing Good is good for business.
A focus on extreme quality, environmentalism, sustainability and community outreach can make your company recession proof.
Shaun discusses working at Patagonia, the world's leading environmentally focused apparel company and how organic cotton, community outreach and a passion for quality transformed the company into a $500 million dollar company that influences every company in the $135 billion dollar apparel sector. He also talks about creating his own $50 million dollar company and how a focus on sustainability differentiated his company from the sea of competition. He also discusses how philanthropy transformed his life and the lives of thousands of others and led him down an unexpected road of prosperity and self-fulfillment.
Unlock An Attitude of Commitment & Positivity
With his unique and empowering business philosophy based on his "Surfer's Code – 12 Simple Lessons for Riding through Life", Shaun Tomson shows the influence of positive values on success in life and business and will transform how you think about connecting, communicating and collaborating. Based on his own experiences in and out of the surf, Shaun Tomson has inspired and touched the hearts of audiences all over the world. Shaun's attitude of Commitment and Positivity has inspired corporations like General Motors, Cisco, Price Waterhouse, Gap, Sasol, Disney, Google, Investec, Primedia, MTN and Adcock Ingram.
Shaun Tomson offers up a profound set of action principles to show one how to get back on the board after a wipeout and paddle back out to catch and successfully ride the next wave. We all live in a challenging sea and our attitude towards those challenges defines who we are, and how we live our lives.
The Code to Activate The Power of Purpose
Purpose:
Purpose is the energy that empowers organizations and individuals to thrive. It positively impacts the workplace too – recent research from EY indicates that purpose-led organizations perform 42% better than those that are simply in business. However, according to a recent Gallup poll, 85% of employees worldwide are not engaged or are actively disengaged in their job. Considering you spend around third of your life at work, this disengaged culture means that helping people to find a sense of purpose isn't just vital for business, but also for people's overall wellbeing.
With these insights in mind, Shaun Tomson shows how to find and define one's purpose to powerfully re-engage individuals and activate a positive wave of commitment and performance throughout an organization.
Sometimes all you need to turn hope into action is to write your promises down and say them out loud—to make a promise to no one but yourself. Shaun's presentation and workshop are about many things—faith, courage, creativity, determination—but above all they are about the promises we make to ourselves about the future.
The Dangers of Growing Up:
20,000 young people aged 15 – 24 die every year in the USA from preventable accidents, all caused by poor choices.
How We Can Help:
The Code is a simple exercise that empowers students to make positive choices in their everyday lives. Built around 12 promises that young people make to themselves, The Code gives them an effective tool to navigate the rough waters of adolescence and young adulthood by asking them to visualize their futures. The power of writing—the power of affirming "I Will"—helps students see beyond today and set a course for tomorrow.
Goal:
The ultimate goal of the Code is to create a wave of positive energy that keeps circling the globe, infusing everyone that comes across it with a powerful spark of hope for the future. It is designed to create a feeling of confidence in oneself, an attitude of strength that results in positive decision making to combat despair, risky behavior, and negative peer pressure.
2-Part Structure: Keynote & Workshop
1) Shaun's powerful 60-minute keynote will inspire students to believe in themselves and to believe in the power that each and every one of us has to shape our lives through the power of "I Will."
2) The CODE Workshop is a simple exercise, a self-empowerment program of 12 promises, a bond of hope between today and tomorrow, a simple tool to help create a positive attitude for positive decisions. Each student writes their Code within 30 minutes in a classroom setting with other students– 12 lines, each line beginning with "I will." Each student reads their Code out loud to the other students and then picks one favorite line which is written on a whiteboard.
Results:
Motivates students to improve their performance
Emotionally engages students with each other
Activates positive change
Helps to identify personal goals to achieve success
Useful in uniting the class
Makes students feel accountable to reach their stated goals
Helps students realize they share common values
Creates a sense of shared purpose
Books
---