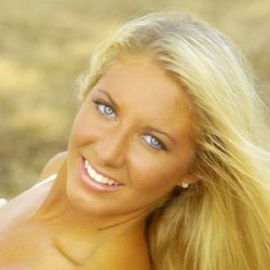 My name is Shawn Rene Zimmerman, I have 6 years of Published/Professional Fitness modeling experience. I have recently been in from 2002 to presently in Muscle & Fitness Magazine, Muscle & Fitness HERS, Oxygen Magazine Muscle & Fitness HERS, Natural Muscle Magazine Cover, FitnessRX For Women 14 page spread, Max Muscle & Fitness Magazine, Oxygen Fitness Magazine, Flex Magazine, Planet Muscle Magazine, Life Fitness Magazine, Met-RX Fitness Magazine & im in the protein boxes this year, Optimum Nutrition/ABB for advertisements in the magazines.
I also have the title of NPC Miss National Teen Fitness Champ, National Dance Champion and ESPN Series Miss Fitness America California 3rd runner up. I have my BA Degree in Exercise Science and I am a NASM Certified Personal Trainer & Certified in Sports Medicine & Sports Nutrition.
My trainer of 7 years is IFBB Fitness Pro Tracey Greenwood. Currently I am doing a lot of fitness modeling so that is keeping me busy & I love fitness modeling! It has been my dream since I was little watching my Dad compete. As soon as i could walk, I used to jump on my dads back when i was little at our home gym, while he did Donkey Calf raises and chin ups! I always was with him when he worked out and i loved it! I said I want to do this too! (My competed from 1983-1987 in the NPC and won Mr. NPC Delaware, Mr NPC Tri-State, Mr NPC Eastern Shore & Best Body on the Beach) My dad still trains hard today and is thinking of sometime doing a Masters NPC show. So fitness in is my blood!
I want to be informative, postive, inspirational role model to this generation to be the very best they can be on the inside & out! If you can dream it, and you believe it, then you can make it so!
Related Speakers View all
---
Tina Marie Jones

Connecting with the audience through the style of a ...

Michael McCain

Awakening Millions To Their Potential -Author, Coach...

Mo Stegall

Global Brand Ambassador, Motivational Speaker, Bests...

Jean Bailey Robor

Jean Bailey Robor, award-winning author and inspirat...

Lori La Bey

Driving Change How Caregiving is Perceived, Received...

Hypnotist The Incredible BORIS

Award-winning Motivational Hypnotist and Keynote Spe...

Liz Nead

Executive Business & Life Coach

Katie Schmatz

Ohh the Possibilities...

Tonisha Pinckney

Empowerment Beyond Victimization - Author of I AM MO...

Christi Tasker

Social Media Branding Queen and Keynote Speaker

Preston Keith Fox

THE ANTI-MOTIVATIONAL-MOTIVATIONAL SPEAKER

Kristi LeBlanc

Premier Expert on Recruiting-Engaging Purposeful, Pa...

Andrea Raquel

Trained Broadcast Journalist / Marketing Pro & Exper...

Eric Gnezda

Singer, Songwriter, Educator, Author, TV Producer & ...

Cathy Sexton - The Productivity Expert

Ignite Your Performance & Accelerate Your Results

Rasheed Ogunlaru

Coach - Speaker - Author

Charlie Alejandro

Motivational Speaker, Writer, Actress & Radio Talk S...

Rita Young Allen

Award-winning Soloist, Teacher

Adora Svitak

Author, Speaker, Youth Advocate & Child Welfare Prof...

Allison Massari

Executive Coach, Entrepreneur, Visual Artist & Burn ...
More like Shawn