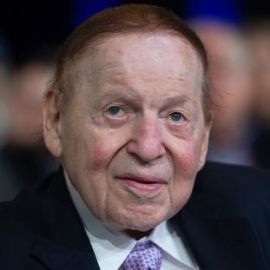 His business career spans more than six decades and has included creating and developing to maturity more than 50 different companies, including the COMDEX trade show for the computer industry. At his direction, COMDEX became the world's largest trade show with a presence in many different countries.
Mr. Adelson is also the founder of Las Vegas Sands Corp. – a company which has become the leading global developer of destination properties (integrated resorts) that feature premium accommodations, world-class gaming and entertainment, convention and exhibition facilities, celebrity chef restaurants, and many other amenities.
As the company's chairman and chief executive officer, Mr. Adelson's penchant for challenging and changing the status quo has led the company to overwhelming success in every location in which it operates.
In Las Vegas he is widely credited for helping transform the city from a gaming-centric regional location into the leading convention and exhibition city in the United States. In Macao, Mr. Adelson's vision to recreate the Las Vegas Strip was originally panned by most observers, but since opening The Venetian Macao on the Cotai Strip in 2007, his development plans have become the envy of international leisure and hospitality operators everywhere.
In 2010, Mr. Adelson set the bar even higher with the opening of the $6 billion Marina Bay Sands integrated resort in Singapore. In addition to all the amenities that have become the hallmarks of Las Vegas Sands-developed properties, this iconic facility features a three-acre SkyPark which sits more than 50-stories off the ground and on top of the property's three hotel towers.
Having been featured on the cover of more than 50 different publications, Mr. Adelson has been profiled by many of the world's leading print and broadcast news organizations.
He has earned multiple honorary degrees and has been a guest lecturer at various colleges and universities, including the University of New Haven, Harvard Business School, Columbia Business School, Tel Aviv University and Babson College.
Among his numerous awards for his business and philanthropic work are the Armed Forces Foundation's Patriot Award, Hotel Investment Conference's Innovation Award, the Woodrow Wilson Award for Corporate Citizenship, and in 2011 he was inducted into the American Gaming Association's Hall of Fame. In 2012, Mr. Adelson was awarded the Hospitality Industry Leader of the Year by the UNLV's William F. Harrah College of Hotel Administration.
Adelson, a lifelong donor and philanthropist to a variety of causes, founded with his wife's initiative the Adelson Foundation. He is a member of the Republican Party.