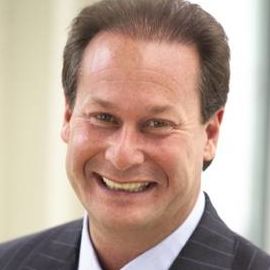 Sheldon Yellen has built himself a robust reputation for his unconventional management style. From his childhood hustling for a buck in the poorest neighborhoods of Detroit, he learned the critical value of relationships and trust. As CEO of BELFOR (parent company to BELFOR Restoration), he used these leadership values to grow a small construction company with a couple of million dollars in revenue into a $1.5 billion dollar industry pioneer. His story became one of the most popular episodes of Undercover Boss, earning an Emmy nomination.
Imagine that your house catches on fire, and you have just enough time to grab your kids and run out of the house. Hours later, after the firemen, police and maybe the insurance adjuster have gone, the only people by your side for the next few months are the professionals at BELFOR Restoration. They not only spend time rebuilding your home, they take the time to hold your hand as you rebuild your lives. The stories of everyday heroes at BELFOR helping people restore their lives are too many to recount. But it takes special people with special leadership skills to create this kind of work culture in the rough-and-tumble world of construction.
For Yellen, this is his family. Abandoning traditional business proceedings in order to put more stock in his greatest asset - people - Yellen admits hating meetings, committees and layers of corporate hierarchy, preferring instead to constantly grow his business in order to expand his family, which today includes over 6,500 men and women in more than 250 offices spanning 30 countries. He professionalized an entire industry, growing his company by capturing one heart at a time.
Sheldon Yellen has developed an influential following of decision makers who love his unconventional management style. His presentations reflect his management philosophies through managing the ups and downs of his industry, his personal journey as a leader and his intense belief in the people who execute his business every day.
Speech Topics
---
A Leader's Story: Overcoming Adversity & Creating a Culture of Success
In his nearly 30 years running BELFOR, Sheldon Yellen has seen disasters, crooked insurance companies and almost anything else that could be thrown at him, yet BELFOR still grew to become a global leader. Learn how Yellen surrounded himself with talented and committed people, and how they weathered leadership numerous crises and captured opportunities. This is the perfect presentation for people who want a different perspective on how to grow your business.
Breaking Through Barriers by Putting People First
So much has been focused on the science of management (bottom line, numbers oriented) that organizations have fostered a passionless and disillusioned feeling by many. We have lost touch with the human side of leadership, mastering the art of leadership that touches people's hearts and breaks through barriers. Sheldon Yellen discusses how he took a $5 million company to a $1.5 billion global leader by putting people first. Learn how his employees have built an incredible culture of loyalty and compassion, providing permission to perform selfless acts of heroism for their clients. Explore how taking the long view, by focusing on the welfare of the families of workers and of customers, can reap word-of-mouth business opportunities that no amount of marketing dollars can buy. Feel the difficulty of always taking the high road, and the huge rewards for sticking to your ethical convictions. Understand what it is like to develop an environment where your workers enjoy giving their all every single day, with joyous pride and professionalism that is infectious. With tons of immediate take-home value for you, we promise that this will be one of the most insightful and touching leadership speeches you will ever experience.
Related Speakers View all
---
Val McLeod

Inspirational Influencer and Empowerment Speaker and...

Tim Sanders

Bestselling Author, Technology Pioneer, Expert on Co...

Howard Putnam

Former CEO of Southwest Airlines

Mike Abrashoff

Former Commander of USS Benfold & Author of "It's Yo...

John Wood

Former Microsoft Marketing Executive & Founder and B...

Garrison Wynn

Comedian & Motivational Business Expert

Benjamin Zander

Conductor of the Boston Philharmonic Orchestra; Cele...

Vince Poscente

Former Olympic Speed Skier, Leadership & Sales Exper...

Paul Orfalea

Founder of Kinko's, Philanthropist-Chairman of the O...

Daymond John

"Shark Tank" Investor; Founder & CEO of FUBU; Presid...

Stedman Graham

Chairman & CEO of S. Graham & Associates, Leadership...

Marcus Buckingham

Peak Performance Expert, Best-Selling Author, Resear...

Anand Bhatt

Speaker on eastern and western spirituality, leaders...

Tony Alessandra

Premier Communications Expert; Author of "The Platin...

Dr. Ken Druck

Speaker, thought leader, executive coach/consultant ...

Jose Feliciano, Jr.

Jose Feliciano has been achieving the impossible for...

Afterburner

US Fighter Pilots & Team-Building Experts

Patrick Lencioni

Management Consultant; Founder & President of The Ta...

Erin Gruwell

Founder & Executive Director of the Freedom Writers ...

Joseph Grenny

New York Times Bestselling Author; Leading Social Sc...
More like Sheldon