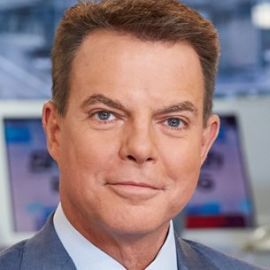 Shepard Smith
Former Chief News Anchor, Managing Editor for Fox News' Breaking News Division and Anchor of "Shepard Smith Reporting"
Shepard Smith is the former chief news anchor and managing editor for the FOX network's breaking news division. He was the anchor of "Shepard Smith Reporting." Smith's highly relatable reporting has been a trademark on FOX News Channel (FNC) since he joined the network at its inception in 1996.
Smith left the conservative cable news network after 23 years. His last afternoon show on October 11, 2019 was his last appearance on the network, according to Fox News. It came a day after President Donald Trump criticized Smith again on Twitter. last "Recently I asked the company to allow me to leave Fox News and begin a new chapter," Smith said in a prepared statement to the press.
Most recently, Smith anchored "The FOX Report" and "Studio B," both of which ranked No. 1 in their respective timeslots, according to Nielsen Media Research. This year, Smith provided wall-to-wall coverage of the shooting at the Los Angeles International Airport (LAX) and was notably on site from Boston providing live coverage during the aftermath of the marathon bombing. He also reported live from Rome during the election of Pope Francis, as well as on the retirement of Pope Benedict XVI. In 2011, Smith was on location from Japan following the devastating earthquake and tsunami and during the nuclear threats. During that same year, he provided extensive news coverage and analysis of the anti-government protests and civil unrest in Egypt and Libya.
Smith has covered numerous prominent news events, including Hurricane Katrina and its aftermath, the Middle East conflict from the Israel-Lebanon border, 9/11 and the subsequent war in Afghanistan, Operation Iraqi Freedom; the Columbine school massacre, and President Clinton's impeachment trial. He was also one of only two television correspondents to witness the execution of Oklahoma City bomber Timothy McVeigh in June of 2001. Early during his career at FNC, Smith held the position of a New York-based general assignment reporter and was then promoted to a senior correspondent.
Prior to joining FNC, Smith was a Los Angeles-based FOX "News Edge" correspondent, reporting on a wide range of stories for the FOX affiliate news service, including the crash of TWA Flight 800, the Montana Freeman Standoff, and the Oklahoma City bombing. Before this, Smith gained extensive local news experience throughout the state of Florida, reporting for WSVN-TV (FOX) in Miami, the former WCPX-TV (CBS) in Orlando, WBBH-TV (NBC) in Fort Myers, and WJHG-TV (NBC) in Panama City, where he began his television career. He attended the University of Mississippi and is a native of Holly Springs, MS.
Related Speakers View all
---
Laura Ingraham

Political Commentator, Television Host & Journalist

Sean Hannity

New York Times Best-Selling Author; Host of "The Sea...

Kimberly Guilfoyle

Conservative Journalist, TV Personality & Former Co-...

Judge Andrew P. Napolitano

Syndicated Columnist, FOX News Analyst & Former New ...

Martha MacCallum

Host of "The Story with Martha MacCallum" on FOX New...

Megyn Kelly

Former Host of "Megyn Kelly Today" & Former Fox News...

John Kasich

Former Governor of Ohio

Neil Cavuto

Business Journalist, Television Host & Author

Eric Bolling

TV Personality, Conservative Commentator; & Author; ...

Bill O'Reilly

Host of "The O'Reilly Factor," Best-Selling Author &...

Ben Stein

Political Economist, Commentator, Author & Actor

Charlie Rose

Anchor and Executive Editor

Steve Doocy

Co-Host of "Fox & Friends" at Fox News Channel

Pat Buchanan

Editor, The American Conservative & Panelist on "The...

Greg Toppo

Education & Demographics Reporter at USA Today

Gregg Jarrett

Co-Anchor of FOX News Channel's "America's News HQ"

Leslie Dodson

Reporter & Videographer Covering International Finan...

Michael Steele

Conservative Political Commentator & Former Republic...

Mike Huckabee

Politician, Former Governor of Arkansas & Host of TB...

Elizabeth Vargas

Emmy Award-Winning Journalist & Investigative Report...
More like Shepard