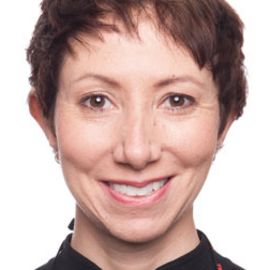 Shereen El Feki is a British journalist and author, most notable for her book Sex and the Citadel: Intimate Life in a Changing Arab World.
As a TED Fellow Shereen El Feki focused on issues related to health and social welfare in the Arab region -- including intimate attitudes toward sexual (and political) freedoms, as explored in her book, "Sex and the Citadel."
She started her professional life in medical science, with a PhD in molecular immunology from the University of Cambridge, and later worked as a health care correspondent at The Economist. In 2005, she left the Economist, and from 2006 to 2008, she hosted weekly shows, People & Power, and The Pulse, on Al Jazeera International.
She also is a former vice chair of the United Nations' Global Commission on HIV and Law. While she has worked in regional media as a presenter with the Al Jazeera Network and continues to write on social issues in the Arab world, her passion lies in projects that aim to better understand, and surmount, the social challenges facing Arabs, particularly young people.
Speech Topics
---
Sex and the Citadel: Intimate Life in the Changing Arab World
If you really want to know a people, start by looking inside their bedrooms. As political change sweeps the streets and squares, parliaments and presidential palaces of the Arab world, Shereen El Feki has been looking at upheaval a little closer to home—in the sexual lives of men and women in Egypt and across the region. The result is an extraordinary, informative and engaging account of an aspect of Arab society that is still largely hidden from view.
Sex is entwined in religion and tradition, politics and economics, gender and generations, making it the perfect lens for examining the region's complex social landscape. In this talk, El Feki takes a fresh look at the sexual history of the Arab region, and brings new voices to the debate over its future. With a look back at changing sexual attitudes in the Middle East, and West, El Feki examines what has been driving a shift towards today's anxieties in the Arab region, and how this plays out in everyday lives: from the taboo of premarital sex to trouble in the conjugal bed; from sexed-up writing to censored movies; from debates over sexual education and abortion to the incendiary topic of unwed motherhood; from the booming business of sex work to the struggles of those who break the heterosexual mould. This is not a talk about what's wrong in the Arab world. It's about what's right: from national policies to community projects to individual choices, El Feki explores how people are finding solutions to their problems, while staying true to their religion and culture, and what this means for the future of democracy across the region.
Related Speakers View all
---
Leslie Dodson

Reporter & Videographer Covering International Finan...

Andrea Mitchell

Award-Winning Chief Foreign Affairs Correspondent at...

Herb Greenberg

TheStreet, CNBC

Carin Bondar

Biologist, Online and TV Host, Public Speaker, Author

Dambisa Moyo

Global Economist, Author & Investor in the Future

Tiffany Shlain

Emmy-Nominated Filmmaker & Founder of the Webby Awards

Chrystia Freeland

Minister of Foreign Affairs of Canada

Linda Ellerbee

Award-Winning Journalist & Television Producer; Brea...

Maria Bartiromo

Global Markets Editor, FOX Business Network

Dan Ariely

Behavioral Economist; Professor at Duke University; ...

Megan Kamerick

Immediate past president, Journalism & Women Symposi...

Holly Morris

Holly Morris tells the stories of women around the w...

Annette Heuser

Annette Heuser proposes critical reforms to loosen t...

Abha Dawesar

Award-Winning Novelist, Artist, TED Speaker & Head o...

Nassim Assefi

Doctor, Author, Global Women's Health Specialist

Juju Chang

Emmy Award-Winning Co-Anchor of ABC News' "Nightline"

Sandra Aamodt

Neuroscientist

Pat Mitchell

Editorial Director & Host of TEDWomen; Co-Chair of t...

Gillian Sorensen

Senior Advisor, UN Foundation

Beth Simone Noveck

Founder & Director of The Governance Lab
More like Shereen