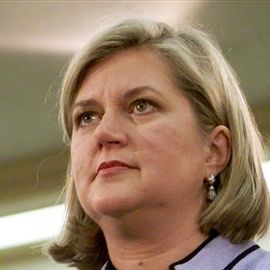 Known worldwide as the Enron whistleblower, Sherron Watkins sounded the alarm that marked the beginning of the end for the corporate giant. In one of the most courageous decisions of her life, she tapped into her own value system, helping topple one of the largest corporations in the world.
A former VP, Watkins was the person who alerted CEO Ken Lay to the accounting improprieties. She gave no thought to the personal repercussions she would face and the incredible impact of her actions.
These actions won her recognition from Time as Person of the Week and one of three Persons of the Year in 2002. Testifying before Congress, and co-authoring the best-selling book, Power Failure, The Inside Story of the Collapse of Enron, she also figured prominently in the heralded documentary, Enron: The Smartest Guys in the Room.
But as we know, Enron was only one of several American institutions that have fallen to deceit, false practices, and unethical leadership. And, Watkins remains one of the most outspoken voices against greed and corruption. True to her personal code of ethics, her contribution to ending Enron's disgraceful practices set the tone for a new direction in corporate governance, responsibility, and oversight.
Videos
---
Speech Topics
---
The Lessons of Enron: The Importance of Ethical Corporate Leadership
Watkins learned firsthand what happens when corporate leaders don't ensure a sound system of values and ethics in an organization. After discovering Enron's "off-the-books arrangements," Watkins sounded the alarm that marked the beginning of the end for the corporate giant. The process of getting to the truth wasn't easy…but the hardest part was the aftermath. In this insightful keynote, Watkins will reveal what made her decide to speak up about the accounting irregularities at Enron, and how she felt about Ken Lay's response to the information. You'll hear about how she handled the spotlight of Congressional testimony and media attention, and then isolation from business leaders in the weeks and months after her name was leaked. She'll discuss how a company known for innovation, pushed its employees past innovative transactions into fraud, and what she would have done differently if she had the chance to do it all again. Most importantly, Watkins will share her views on how to spot the warning signs of an erosion in values and how, from her experience, she would advise others on the issues of ethics and governance in the context of the current climate of distrust in corporate America.
The Courage of Your Convictions: The True Story of Sherron Watkins, the Heroine who Exposed the Enron Debacle