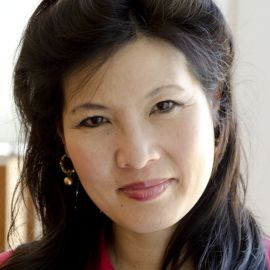 The first Asian-American reporter to win a Pulitzer Prize, Sheryl WuDunn has journeyed through several industries, from banking to journalism and book writing, pulling together critical insights to bear upon her work. Most recently, she has written a new book, A Path Appears, about spreading opportunity and making a difference in the world. Previously, she was co-author of Half the Sky, about the oppression of women and girls around the world. Sheryl has used her immense talent as a writer, speaker and thought leader to advocate for those without the resources to advocate for themselves. Selected as one of Newsweek's "150 Women Who Shake the World," WuDunn has helped raise awareness about the challenges facing women, such as sex trafficking. A highly successful business executive and best-selling author, she currently works with entrepreneurs in new media, technology and social enterprise at Mid-Market Securities, a small investment banking boutique in NYC.
In her inspirational best-selling book, Half the Sky: Turning Oppression into Opportunity for Women Worldwide – written with her husband, Nicholas Kristof – WuDunn goes beyond simply exposing the devastating daily reality for so many of the world's women, and uses the powerful book as a call to action for solutions. The book had an immense impact on exposing the plight of oppressed peoples around the globe, sparking activism and a new sense of awareness worldwide. Thanks to the book's popularity and global impact, it soon grew into a multi-platform digital media effort that now includes a highly popular documentary series on PBS, mobile games and an online social media game on Facebook.
Previously a vice president at Goldman Sachs, WuDunn has an adept understanding of macro and micro economic trends. Winning the Pulitzer Prize with Kristof for their coverage of China, WuDunn is an expert on the Chinese economy. She has co-taught on China as part of a global affairs course at Yale University, and she frequently speaks about business and economic challenges facing China to a wide range of audiences. Her on-the-ground approach to insights about China have helped many of her audiences get a much better grasp of this remarkable and expanding nation. Her stories and first-hand experiences over many years in China make the country come alive for her listeners. She discusses Chinese economic issues on major television and radio programs such as Bloomberg TV, Fox Business News and NPR. She also was an esteemed guest at President Obama's State Dinner at the White House for Chinese President Hu Jintao.
Thoughtful, engaging and clever, Sheryl WuDunn delivers her important message of leadership, hope and on-the-ground solutions in China and around the world to audiences worldwide. With her extensive global experience, and her experience working with a variety of entrepreneurs in various fields, WuDunn has unique insight on market solutions to human rights issues, taking audiences on a remarkable journey and giving them first-hand accounts of lives that are rarely seen. A commanding speaker, she is frequently called upon by senior officials both in the U.S. and abroad to speak on economic, political and social topics related to women in the developing world, the global economy, China and other emerging markets. Sharing the important stories that often go untold, Sheryl WuDunn shows audiences not only what needs to change, but how to take action to make ideas become reality.
Speech Topics
---
Half the Sky: Turning Oppression into Opportunity for Women Worldwide
Reporting Sex Trafficking, Genocide & Other Truths of the World
Why Students Should Care About the World - & Change It
A Path Appears: Transforming Lives, Creating Opportunity
Equal in urgency and compassion to Half the Sky, this stirring speech by WuDunn is even more ambitious in scale: nothing less than a deep examination of people who are making the world a better place, and the myriad ways we can support them.
With scrupulous research and on-the-ground reporting, WuDunn investigates the art and science of giving by determining the current most successful local and global aid initiatives, evaluating the efficiency and impact of specific approaches and charities, as well as fund-raising. She offers practical advice to audiences on how best each of us can give and what we can personally derive from doing so. Soon to be the basis of a PBS four-hour series.
Related Speakers View all
---
Nicholas Kristof

Pulitzer Prize-Winning New York Times Columnist & Po...

Ralph Nader

Former Presidential Candidate for the Green Party, C...

Asra Nomani

Journalist & Author, Women's Rights Activist

Alexandra Cousteau

Environmental Activist, Storyteller & Ocean Advocate

John Zogby

Trendspotter & Leading Pollster

America Ferrera

Award-Winning Actress, Producer & Humanitarian

Sonia Nazario

Pulitzer Prize-Winning Author & Journalist; Author o...

Amy Goodman

Host & Executive Producer, Democracy Now!

Raj Patel

Award-Winning Writer, Activist & Academic

Victoria Rowell

Classically Trained Dancer, Actress on "The Cosby Sh...

Parag Khanna

Leading Geo-Strategist & Author

Geoffrey Canada

Inner-City Youth & Education Advocate

Dean Karlan

Behavioral Economist, Social Entrepreneur & Author

Anne-Marie Slaughter

Foreign Policy Expert, Author & CEO, New America Fou...

Joseph Stiglitz

American Economist, Professor at Columbia Universit...

Van Jones

CNN Political Contributor; Author; Human Rights, Edu...

David Goodman

Investigative Journalist / Author

Erin Gruwell

Founder & Executive Director of the Freedom Writers ...

Somaly Mam

Survivor & Anti-Sex Slavery Activist

John Wood

Former Microsoft Marketing Executive & Founder and B...
More like Sheryl