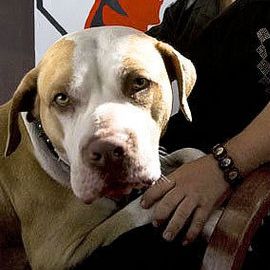 Shorty, 41, grew up in two different worlds - one an upper-middle-class, almost completely white, suburban neighborhood of Los Angeles, with his dwarf parents, and the other the Nickerson Gardens Housing Projects in Watts, a section of South Central Los Angeles, where he lived with a family friend to avoid conflict at home. By the age of 15, Shorty was living on his own.
When Shorty was 18 years old, he was involved in a gang-related shooting and convicted of several felonies. He was sent to a youth facility and later to Folsom State Prison to serve a total sentence of 10 years, 10 months and 10 days. While in prison, Shorty turned his life around, and by the time he was released, he was determined to make something better out of his life.
Looking to make a fresh start, Shorty turned to entertainment jobs and soon learned he could earn lucrative gigs as a little person. Shorty landed his first job in show business at Universal Studios Hollywood as "Alvin" for an Alvin and the Chipmunks stage show. Since then, he has appeared in several commercials and worked on several movies, including The Grinch, with Jim Carrey; The Kid, with Bruce Willis; Call Me Claus, with Whoopi Goldberg; and Showtime and Daddy Day Care, with Eddie Murphy, among others. In addition, he has appeared on dozens of TV shows and performed live in theater for years. In 2000, Shorty founded his own company, Shortywood Productions, to provide and manage little people entertainers for all types of shows, private parties and corporate events.
But Shorty has a special passion that has been a major part of his life since he was a teenager - championing the cause of pit bulls. Shorty has owned pit bulls since he was 14 and credits them with "saving his life," by being such loyal companions through some of the roughest times in his life.
Because of his love for the breed, Shorty took on another huge endeavor, forming Shorty's Pit Bull Rescue, a second business that rescues, rehabilitates and places neglected and abused pit bulls in loving, nurturing homes. Shorty's Rescue is not a shelter or a charity; its employees work tirelessly to help relieve the suffering of and prevent cruelty to pit bulls through education and activism. Through positive pit bull involvement in the community, Shorty's Pit Bull Rescue influences a healthy/much-deserved reputation for the breed. Shorty's Pit Bull Pet Stars have worked on several independent, student and short films as well as public-service commercials and various print ads. The group does volunteer work by visiting nursing homes, schools, functions and hospitals.
After injuring himself in a stunt, Shorty became interested in service animal training. He trained one of his own pit bulls to be a service animal, and he actively has been involved in the Americans with Disabilities Act community ever since. Currently, two of Shorty's dogs are registered service animals, with one in training.
Shorty is a workaholic by nature; therefore, he doesn't have much spare time for socializing. When in social settings, he often surrounds himself with people of all backgrounds in his home in Los Angeles and his second home in Mexico, where he also spends a lot of time promoting pit bull awareness. Shorty has a special place in his heart for his employees Ashley, Sebastian and Ronald, who are all little people. Shorty loves cigars, wine, and relaxing with friends and his five pit bulls.
Books
---
Related Speakers View all
---
Boyd Varty

Author of "Cathedral of the Wild," Speaker & Conserv...

Jim O'Heir

Actor Starring in the NBC Comedy Series "Parks and R...

Frans De Waal

Primatologist & Ethologist; Professor at Emory Unive...

Marty Becker

Known as America's Veterinarian; Featured on Vetstreet

Pat Parelli

Famed Horse Trainer; Known for Natural Horsemanship

Michael Archer

Paleontologist Michael Archer is working to bring ba...

Achmat Hassiem

Shark Attack Survivor, Paralympic Swimmer & Global S...

Simon Lovell

English Comedy Magician, Card Shark Actor and Con Man

Gary Paulson

Gary Paulson knows all of the rules of writing, and ...

Kristofer Helgen

Zoologist & Curator of Mammals at the Smithsonian; D...

Paul McCartney

Former Member of The Beatles; One of the Most Succes...

Tom Hardy

English Actor Known for "This Means War," "The Dark ...

Zack Heart

Australian TV Personality, Wildlife Specialist & Con...

Ryan Gosling

Actor, Director, Producer, Writer & Musician

Dave Salmoni

Animal Planet Television Personality & Large Predato...

Daniel Pauly

Daniel Pauly is the principal investigator at the Se...

Paul Snelgrove

Paul Snelgrove led the group that pulled together th...

Jackson Galaxy

Host, "My Cat from Hell" & Author, "Cat Daddy: What ...

Paul Nicklen

Renowned Wildlife Photographer & Conservationist

Pierce Brosnan

Actor, Producer & Activist; Best Known for His Role ...
More like Shorty