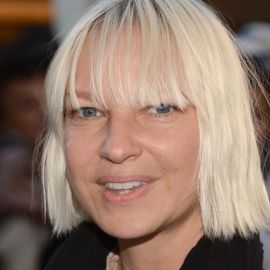 Sia
Australian Singer-Songwriter & Music Video Director; Best Known for "Chandelier," "Cheap Thrills," and "Elastic Heart"
Sia (born Sia Furler) is an Australian singer, songwriter and music video director. She is best known for her singles "Chandelier," "Cheap Thrills," and "Elastic Heart."
Born in Adelaide, Australia, Sia's career began when she joined the acid jazz group "Crisp." The band released two albums, entitled "Word and the Deal" and "Delirium." Following her work with the band, Sia released her debut solo album, entitled "OnlySee." However, it was not until she moved to the UK that she gained any notable recognition for her talents.
Sia signed to the DancePool record label in 2000. Her major label debut album, "Healing Is Difficult," produced a number of underground club hits, such as "Drink To Get Drunk" and "Little Man." Following a dispute, Sia left her label and signed a new deal with Go! Beat Records.
In 2003, Sia released "Don't Bring Me Down." The EP's closing song was used on the soundtrack of 36 Quai des Orfèvres. "Colour the Small One," her third full-length album, was released the next year, featuring a single with US musician Beck Hansen (better known simply as Beck). "Breathe Me," a single on her third album, was featured in an episode of the HBO show "Six Feet Under" and was played at the 2006 Victoria's Secret Fashion Show. As a result, the album was re-released in the US, featuring remixes by electronic artists Ulrich Schnauss and Four Tet.
Sia's fourth album, "Lady Croissant," was released the following year, followed by the EP "Day Too Soon" and a solo album titled "Some People Have Real Problems." She performed live on Late Night With Conan O'Brien and on Jimmy Kimmel Live! in 2008. Sia collaborated with Christina Aguilera and Samuel Dixon on the song "Bound to You" for the film Burlesque. The song was nominated for the 2010 Golden Globe Award for Best Original Song.
Her fifth album, "We Are Born," was released in June 2010. The album received glowing reviews from fans and critics alike. That same year, Sia was forced to cancelled a large portion of her tour after being diagnosed with Graves' disease. The singer has also opened up about living with EDS, or Ehlers-Danlos syndrome.
Next, Sia released a greatest hits album titled "Best Of..." in Australia and recorded a single called "Kill and Run" for The Great Gatsby soundtrack that following year. In 2014, she released her sixth album, "1000 Forms of Fear," to great critical praise. She also collaborated with The Weeknd and Diplo for the song "Elastic Heart," which was featured on the soundtrack of The Hunger Games: Catching Fire.
Sia's sixth album, "1000 Forms of Fear," debuted at No. 1 on the U.S. Billboard 200, generating the top-ten single "Chandelier" and a trilogy of music videos starring dancer Maddie Ziegler. In 2016, she released her seventh album "This Is Acting," which spawned her first Billboard Hot 100 number one single, "Cheap Thrills."
In 2018, Sia collaborated with English musician Labrinth and American DJ Diplo, under the name LSD, to release four songs. She has received ARIA Awards and an MTV Video Music Award for her music.
Videos
---
Related Speakers View all
---
Katy Perry

Singer-Songwriter & Judge on "American Idol"

Rihanna

Grammy Award-Winning Singer, Songwriter & Actress

J.K. Rowling

Author of the "Harry Potter" Series

Sam Smith

Grammy Award-Winning British Singer-Songwriter

Kanye West

Grammy Award-Winning Rapper & Producer

Eminem

Rapper and Record Producer; Also Known as "Slim Shady"

Ellie Goulding

British Musical Artist Known for Her Albums "Lights"...

Solange Knowles

R&B Singer-Songwriter; Sister of Beyonce; "Losing You"

Beyonce Knowles

Singer, Songwriter, Record Producer, Actress & Designer

Natasha Bedingfield

Singer and Songwriter; Best Known for "Unwritten" an...

Lissie

Singer & Songwriter

Sister Hazel

Band Known For Singles Like "All For You"

Pharrell Williams

Singer-Songwriter, Producer & Entrepreneur; Known fo...

Gin Blossoms

Alternative '90s Band, "Hey Jealousy"

Tyler, The Creator

Rapper, Record Producer & Music Video Director; Lead...

Patty Griffin

Grammy Award-Winning Folk Singer-Songwriter

Neko Case

Neko Case is an American singer-songwriter, best kno...

Metric

Canadian Indie Rock and New Wave Band

Evanescence

Goth-Inspired Arkansas Rock Band; "My Immortal"

Reese Witherspoon

Academy Award-Winning Actress & Producer, Founder of...
More like Sia