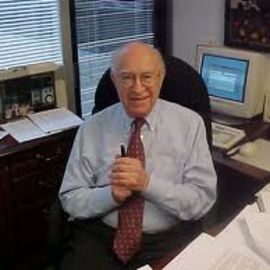 Sidney Weintraub is the emeritus William E. Simon Chair in Political Economy at CSIS. He served as Simon Chair from 1994 to 2011. He is also professor emeritus at the Lyndon B. Johnson School of Public Affairs at the University of Texas at Austin, where he was Dean Rusk Professor from 1976 to 1994, when he then joined CSIS. 

A member of the U.S. Foreign Service from 1949 to 1975, Weintraub held the post of deputy assistant secretary of state for international finance and development from 1969 to 1974 and served as assistant administrator of the U.S. Agency for International Development in 1975. He was also a senior fellow at the Brookings Institution. 

His many publications include Energy Cooperation in the Western Hemisphere: Benefits and Impediments (CSIS, 2007); NAFTA's Impact on North America: The First Decade (CSIS, 2004); Issues in International Political Economy: Constructive Irreverence (CSIS, 2004); Free Trade in the Americas: Economic and Political Issues for Governance and Firms (Edward Elgar, 2004); Financial Decision-Making in Mexico: To Bet a Nation (Pittsburgh, 2000), and Development and Democracy in the Southern Cone: Imperatives for U.S. Policy in South America (CSIS, 2000). Weintraub has also published numerous articles in newspapers and journals. He received a Ph.D. in economics from American University and an M.A. in economics from Yale University.

Speech Topics
---
SIMON CHAIR BLOG, SIMON CHAIR IN POLITICAL ECONOMY
Related Speakers View all
---
David Pumphrey

Deputy Director and Senior Fellow, Energy and Nation...

Edward C. Chow

Senior Fellow, Energy and National Security Program

Sarah O. Ladislaw

Co-Director and Senior Fellow, Energy and National S...

Luis E. Giusti

Senior Adviser

J. Christopher Daniel

Senior Associate (Consultant), Global Health Policy ...

Scott Miller

Senior Adviser and Scholl Chair in International Bus...

Persis Khambatta

Fellow, Wadhwani Chair in U.S.-India Policy Studies

Ernest Z. Bower

Senior Adviser and Chair for Southeast Asia Studies

Gregory Sanders

Fellow, Defense-Industrial Initiatives Group

Sharon Squassoni

Director and Senior Fellow, Proliferation Prevention...

Anthony H. Cordesman

Arleigh A. Burke Chair in Strategy

Brian Penoyer

Military Fellow, International Security Program

Stephen Johnson

Director, Americas Program

David T. Johnson

Senior Adviser (Non-resident), Americas Program

Yu Ye

Visiting Fellow, Freeman Chair in China Studies

Scott Aughenbaugh

Deputy Director, Strategic Futures, CSIS

Sadika Hameed

Fellow, Program on Crisis, Conflict, and Cooperation

Guy Ben-Ari

Deputy Director and Senior Fellow, Defense-Industria...

Rick "Ozzie" Nelson

Director, Homeland Security and Counterterrorism Pro...

Gerald Hyman

Senior Adviser and President of Hills Program on Gov...
More like Sidney