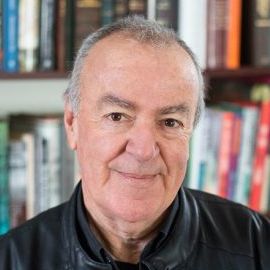 Simon Chapman
Emeritus Professor in Public Health at the University of Sydney; Tobacco Control Activist; Author on Public Health
Simon Chapman is an Emeritus Professor in Public Health at the University of Sydney. In his PhD in social medicine he examined the semiotics of cigarette advertising. He has authored 21 books and major reports, 339 papers and editorials, and 191 letters and commentaries in peer reviewed journals.
Chapman is a regular writer on public health matters in leading Australian newspapers and blogs, having written some 375 opinion page and journalistic articles since 1981. His main research interests are in tobacco control, media discourses on health and illness, and risk communication. He taught annual courses in Public Health Advocacy and Tobacco Control in the University of Sydney's MPH program. He wrote a regular column, Smoke Signals, on public health matters for The Conversation from January 2015 - August 2017 which by June 2019 had been read 3.263 million times.
In 1997 Chapman won the World Health Organization's World No Tobacco Day Medal; in 1999, the National Heart Foundation of Australia's gold medal; in 2006 the Thoracic Society of Australia & New Zealand President's Award. In 2003 he was voted by his international peers to be awarded the American Cancer Society's Luther L. Terry Award for outstanding individual leadership in tobacco control. In 2005, his research on the tobacco industry was selected by the National Health and Medical Research Council as being one of its "top 10" projects. He was foundational deputy editor of the British Medical Journal's specialist journal, Tobacco Control, and its editor from 1999 to 2008. He was Tobacco Control's commissioning editor for Low and Middle Income Countries from 2008–2010 and is now editor emeritus.
Chapman studied health complaints regarding wind farms in Australia in 2012 and concluded the complaints were likely to be the result of nocebo effects. In 2008 he was awarded the $50,000 NSW Premier's award for Cancer Researcher of the Year, voted to become a Fellow of the Academy of Social Sciences in Australia, won the Public Health Association of Australia's Sidney Sax medal, and was included in the Sydney Morning Herald's Sydney Magazine list of 100 of Sydney's most influential people. He appeared in that magazine's list again in 2012. In 2013 he was given a Distinguished Professorial Award by the faculty of Medicine at the University of Sydney and made an Honorary Fellow of the Faculty of Public Health of the Royal College of Physicians (UK). He was a staff elected Fellow of Senate, at the University of Sydney from 2007–2011. He was a board member of Action on Smoking and Health (ASH) from 1996–2013, and the Australian Skeptics Inc conferred on him the award of Australian Skeptic of the Year in 2013.
Chapman is a life member of the Australian Consumers' Association and was its chairman from 1999–2002. He has served on the board of The Cancer Council New South Wales for nine years. He was also a key member of the Coalition for Gun Control which won the 1996 Australian Human Rights and Equal Opportunity Commission's Community Human Rights award for its advocacy for gun law reform after the Port Arthur massacre in 1996.
Since his retirement in 2016, Chapman continues to be a sought-after keynote speaker at universities and health focused events around the world.
Videos
---
Related Speakers View all
---
Neal Benowitz

Academic Physician & Professor Emeritus of Medicine ...

Michael Siegel

Tobacco Control Expert, Public Health Researcher, Pr...

Judith Mackay

International Tobacco Control Advocate; Director of ...

Rick Stoddard

Anti-Smoking Activist; Author of "The Burning Truth"

Ruth Malone

Tobacco Control Researcher & Policy Analyst; Editor-...

Janet Hoek

Professor of Marketing at the University of Otago; A...

Rami Nashashibi

Co-Founder & Executive Director of the Inner-City Mu...

Dr. Aida Giachello

Professor at Northwestern University School of Medic...

Dr. Samantha Nutt

Founder & Executive Director of War Child North America

John Cleese

British Comedic Actor, Screenwriter & Producer

Sherman Alexie

Poet, Short Story Writer, Novelist, and Performer

Emily Silverman, MD

Host of "The Nocturnists", Physician & Assistant Pro...

Kemi DaSilva-Ibru

Specialist Obstetrician & Gynecologist; Founder of W...

Adaora Okoli

Internal Medicine Resident, Tulane University

Helen Egger

Founder, WonderLab & Chair of the Department of Chil...

Kathy Vizas

Co-Founder of TogetHER & Health Advocate

Matthew Myers

President & CEO of the Campaign for Tobacco-Free Kid...

Humphrey Nabimanya

Founder & Team Leader at Reach A Hand Uganda; Advoca...

Samuel Sternberg

Protein-RNA Biochemist, CRISPR Expert, & Author of "...

Robyn O'Brien

TEDx Speaker, Food Industry Advisor, Former Financia...
More like Simon