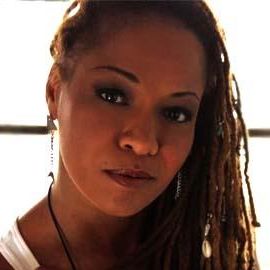 Simone is her own woman, a singer, songwriter, and performer whose ability to transcend genres echoes the tradition of her mother, musical icon and pioneer Nina Simone. Blessed with a rich vocal range, an innate skill for lyrical interpretation and a soul-deep understanding of music as a means of healing, empowerment, and celebration, Simone is very much her mother's daughter, but she is most assuredly a multi-talented artist in her own right.
A highly-praised live performer, Simone's impressive resume includes starring roles on Broadway in such acclaimed musicals as "Aida," for which she received the National Broadway Theater Award for Best Actress in a Musical, and "Rent," whereby she was nominated for both Helen Hayes and Jefferson Awards for her role as "Mimi Marquez." Simone has developed an exciting and diverse repertoire of pop, soul, jazz, rock, and funk, expressed in shows she's done throughout the world. Says Simone, "Touring with Simone on Simone has been a dream come true as I've traveled around the world and graced stages that are legends unto themselves. Among my favorites have been the Sydney Opera House, the Montreaux Jazz Festival, New York's Lincoln Center, Los Angeles' Hollywood Bowl, and the North Sea Jazz Festival."
With the success of her 2008 release, Simone on Simone (a big band tribute to her mother produced by famed jazz musician and arranger Bob Belden), music lovers worldwide have discovered the vocal dynamism that live audiences have witnessed for over a decade. "This is my tribute to my mother, a chance for me to do the songs I love the most the way I hear them. It's a glimpse of my life over four decades…" Fortunate to have been gifted over fifty of her mother's original arrangements, Simone began working with producer Bob Belden (whose credits include work with Herbie Hancock, Cassandra Wilson, Sting, and Chick Corea) on the recording project, culling eleven songs from Nina Simone's repertoire, including one live performance on which her mother accompanied her and featuring one poignant and highly personal song, "Child in Me" which Simone fondly refers to as "my love song to my mother."
She succeeds admirably, turning in tour-de-force performances on little-known gems from her mother's recorded repertoire such as "Keeper of the Flame," "I Hold No Grudge," and "Don't You Pay Them No Mind" (all from Nina Simone's 1966 LP High Priestess of Soul) as well as reworkings of such classics as "Feeling Good," "Black Is the Color of My True Love's Hair" (given a completely new and original twist), "Work Song," the spirited "(You'll) Go To Hell," and swinging versions of "Love Me or Leave Me" and Duke Ellington's "Gal From Joe's." Rounding out her first of many future albums: "I Wish I Knew How It Would Feel To Be Free" (the Billy Taylor tune closely identified with her mother as one of the potent message songs which were so much a part of Nina Simone's catalog of music with themes of freedom, self-empowerment, and justice for all) and "How Long Must I Wander," a plaintive song that speaks to Simone's own formative years traveling across the globe with her mother. The album went on to become #14 on the Billboard Jazz charts and was Top 5 at iTunes on their Jazz Vocalist chart.
In October 2010, Simone recorded a new version of her mother Nina's original classic "Four Women" for Tyler Perry's film For Colored Girls Who Have Considered Suicide When the Rainbow Is Enuf. In keeping with the organic integrity of the original recording with a slightly younger rendition, "Four Women," produced by Warryn Campbell, can be heard on the commercially released movie soundtrack (Atlantic Records), in the closing credits, and on the movie trailer.
Since her mother's passing in 2003, Simone has taken on many projects which include managing her mothers' extensive estate. Simone is also an avid supporter for Breast Cancer Awareness (the disease which claimed her mother's life in 2003).
A veteran of the Gulf War, Simone served her county for 11 years in the United States Air Force as an engineering assistant.
Encouraged by the constant support of God, family, friends and fans, Simone says her commitment is to "keep singing, keep writing, keep performing, spreading the word, spreading the healing, spreading the message, and spreading the love!" With a rich heritage to draw from, a wealth of accomplishments and accolades as a Broadway star and live performer, and a finely developed sense of her own unique artistry, Simone is ready to establish herself as a successful recording artist of the first order. She has had a wonderful run with Simone on Simone, an album that honors her mother's musical contribution while beginning a new chapter in her own musical journey. Look for Simone's sophomore CD to be released in 2012, which turns the page and continues the legacy on Simone's own terms.
Additional projects in development for release over the next year include a double Nina Simone CD (which Simone will produce), a Broadway play on the life and times of Nina Simone, and the re-release of her mother's autobiography.