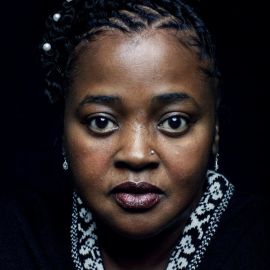 A graduate of Rutgers University, she earned a degree in American history and African studies. She also attended the Cornell University Advanced Placement Studies, and studied abroad in Europe at the University of Salamanca.
A global student, Souljah traveled throughout her college years to England, France, Spain, Portugal, Finland, and Russia. Her academic accomplishments were reinforced with firsthand experiences. She worked to build a medical center for families in Bindura, Zimbabwe; she worked with refugee children from Mozambique. A major participant in the international student anti-apartheid movement, she helped to create a momentum, movement, and fervor which liberated Nelson Mandela and brought about the divestment of millions of dollars from corporations doing business with apartheid South Africa. Her travels in Africa also included Zambia and South Africa. She believes it is essential that African professionals help one another to save their continent, resources, families, and children.
As a student activist in America, Souljah created, financed, and implemented the African Youth Survival Camp, a six-week summer sleep-away academic/cultural camp for 200 children of homeless families. With a skillful curriculum which she designed, this camp ran for over three consecutive years and inspired major celebrities to start their own camps and schools, and to build charities and institutions to give back.
As a community activist, Souljah organized against racially-motivated crimes, police brutality, and the miseducation of urban youth. She produced and promoted several outdoor rallies and concerts in Harlem, N.Y., which drew nearly 30,000 youth each time, as well as the participation of top hip-hop and R&B celebrities.
In the field of entertainment, Souljah has been on many platforms including radio and television. Before the political shutdown and attack on American first amendment rights, she was the young voice in New York radio that spoke to the hip-hop audience about politics, culture, business, and social organization. This includes being a featured speaker at the Million Woman March, and appearances on Oprah, Larry King Live, and the cover of Newsweek magazine. As a hip-hop artist, Souljah's CD, 360 Degrees of Power, sparked international debate over issues of race, culture, sexism, and politics.
Today, Souljah is a 21st-century multidimensional woman. From 1995 to 2007 she was the Executive Director of Daddy's House Social Programs, the charitable wing of Bad Boy Entertainment. At Daddy's House, Souljah created cultural and academic programs which were offered to urban youth and housed at Columbia University. Souljah also created, designed, and directed summer sleep-away camps and international youth travel groups which have had a powerful impact on many youth in America. She is the author of three national bestsellers: The Coldest Winter Ever, No Disrespect, and Midnight, A Gangster Love Story. In 2008, within one week of the release of Midnight, A Gangster Love Story, Sister Souljah became a New York Times Bestseller, entering the charts at #7.
Videos
---
Speech Topics
---
Male/Female Relationships
The Role of African Students on Campus
African Culture in America
21st Century Pan-Africanism
Related Speakers View all
---
Angela Davis

Feminist, Social Activist, Professor & Writer

Gabrielle Union

Actress, Voice Artist, Activist, Author

Judge Greg Mathis

Civil Rights Activist, Television Personality

Yusef Salaam

One of the Central Park 5, Entrepreneur, Author, Tra...

Sheryl WuDunn

Pulitzer Prize-Winning Journalist; Co-author of Half...

Donna Brazile

Veteran Political Strategist, Bestselling Author, Fo...

DeRay Mckesson

Civil Rights Activist & Host of "Pod Save The People"

Maya L. Harris

Influential Voice at the Intersection of Politics, P...

Maggie Anderson

Author of "Our Black Year" & Founder, Empowerment Ex...

Somaly Mam

Survivor & Anti-Sex Slavery Activist

Kevin Powell

Writer, Humanitarian, President of BK Nation

Liz Seccuro

Victims' Rights Activist & Author

Sandy "Pepa" Denton

Rapper, Salt-N-Pepa

Brenda Combs

Inspirational Educator & Survivor; Founder of Findin...

Dr. Crystal Kuykendall

Dr. Crystal Arlene Kuykendall is considered one of t...

Patricia J. Williams

Columnist & Law Professor

Kathleen Kennedy Townsend

Maryland's 1st Female Lt. Governor

Bobby Seale

Political Activist & Co-Founder of the Black Panther...

Victoria Rowell

Classically Trained Dancer, Actress on "The Cosby Sh...

Anthony Romero

Executive Director of the ACLU; First Latino & First...
More like Sister